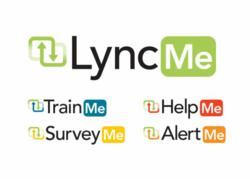 Seattle, WA (PRWEB) February 19, 2013
The LyncMe product family is the latest addition to Modality Systems' extensive Unified Communications offerings and custom solutions using the Communications Enabled Business Processes (CEBP) Accelerator. Each unique member of the product family is designed to streamline and enrich business communications, and maximize workplace efficiency while leveraging the use of Microsoft's Lync software.
"The LyncMe product family is an innovative platform that will expand on the power of Microsoft Lync to enable organizations to benefit from seamless communications and accelerated business decision making," said John Lamb, President of Modality Systems, "I'm excited because we've been building these kinds of solutions for our clients for several years, and this release will put the capability into the hands of many more users in as cost-effective and easy-to-deploy solution."
The applications are available today as an on-premise deployment. However, over the next quarter, they will be rolled out on the powerful LyncMe.net hosted platform to help meet a wide variety of business needs in a timely and efficient manner.
"Knowing people were online and available via HelpME, providing real-time support really gave our users confidence to adopt Lync in preference to our legacy conference systems." Says Jamie Wheeldon, Technical Architect, Global Financial Services Firm.
The LyncMe product family includes:

TrainMe: a revolutionary way to construct, deliver and monitor the delivery of training content throughout an organization.
SurveyMe: providing online meeting organizers the opportunity to obtain feedback through Lync client-based surveys.
AlertMe: providing Lync-based corporate announcements to designated members of an organization.
HelpMe: an intuitive, interactive find-an-expert application.
The LyncMe product family was designed with convenience in mind – the applications work with any existing Lync infrastructure, including the new Lync 2013. This enables organizations to deploy them without compatibility concerns, and reduces the probability of all-too-common challenges with user adoption.
For additional information on the LyncMe product family, the LyncMe.net hosted platform, or any of the individual LyncMe applications, please send an email directly to LyncMe(at)ModalitySystems(dot)com.
About Modality Systems:
Modality Systems is a specialist provider of consulting services and custom software development for UC technologies. With deep technical expertise in software development, infrastructure and Microsoft Lync, we smoothly integrate a new UC deployment with existing telephony systems. Our product offerings include: iDialog, SuperToast, TimePrompt, CRM Enhance, the LyncMe product family and custom solutions using the Communications Enabled Business Processes (CEBP) Accelerator. Modality Systems is proud to be a Microsoft Certified Lync Support Partner.
Modality Systems' global Headquarters are located in St. Albans, UK and North American Headquarters are in Kirkland, WA, USA. Additional offices are located in Norwich, UK, Santa Clara and San Diego, CA, USA. For more information on Modality Systems, please visit http://www.modalitysystems.com.