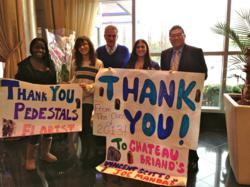 We did't want to deny any students the opportunity to attend their prom because of cost
Carle Place, New York (PRWEB) February 19, 2013
For the past seven years, Long Beach High School has been holding its prom at Chateau Briand in Carle Place. However, due to hardships caused by Superstorm Sandy, it looked like many students would not be planning to attend the prom this year.
"The prom committee polled Seniors after the holiday break about their plans to attend the prom," said teacher and prom advisor Adriane Glassberg. "The results indicated that our prom attendance would be down, in part because of the financial aftereffects of Sandy."
After receiving the survey results, Ms. Glassberg called Mr. Joe Mandaro, the executive director of corporate and special events at Chateau Briand, to tell him that due to hardships caused by the storm, the school might not be able to make the guaranteed minimum number of attendees as specified in their contract.
"Ms. Glassberg's concerns ranged from the diminished amount of attendees they might have this year to the cost of the prom for each student," said Mr. Mandaro. "I assured her that we were aware of the hardships that were being faced by everyone in Long Beach and that, upon her request, we would not hold them to a specific number of people this year. We also agreed to reduce the price to what she thought might be an affordable amount for the students who would want to attend, adding a consideration for any special hardships they might encounter."
Mr. Mandaro then met with owners Victor and Anthony Scotto, general manager Victor Scotto Jr. and controller Joe DiRico. They discussed the special situation the school was facing, their loyalty as clients, the ongoing stories of the cleanup and rebuilding of the area, and the overall financial and psychological hardships being endured by the people of Long Beach.
As a family-owned and run business,Scotto Brothers wanted to ensure a memorable evening for every student in the Senior class. "We didn't want to deny any students the opportunity to attend their prom because of cost," explained Mr. Mandaro. "Of course, always being a community-minded company and being family people ourselves, the next thought flowed quite naturally -- why not donate the prom this year?"
So Mr. Mandaro and Victor Scotto Jr. called Ms. Glassberg and Dr. Gaurav Passi, principal of Long Beach High School, to notify them of the good news that they would be donating the entire cost of the reception.
A few days later, Mr. Mandaro and Mr. Scotto called again, informing the school that Pedestals Florist in Garden City Park, the house florist for Chateau Briand, would also donate their services for the night to ensure that the tables looked beautiful for the students.
In addition, Victoria Scotto of Chateau Briand set out to make every lucky Senior girl at Long Beach High School feel like a princess for the night, by hosting a Prom Dress Party on April 18. Long Beach High School Senior girls who are attending their prom will be able to choose from a selection of donated dresses, handbags, and costume jewelry. There will be raffles & giveaways such as limousines, gift cards and accessories. Among the vendors contributing to this event are Estelle's Dressy Dresses, Bridal Reflections, Tuxedo Park, Men's Wearhouse, Frippery Boutique, Thomas Knoell and Body Rock DJ. This event, which is being mentioned on social networks such as Facebook, has an open door invitation for additional vendors to contact Ms. Scotto to volunteer their services for the Prom Dress Party. Ms. Scotto is also in the process of coordinating donations to assist boys who will be attending the Long Beach prom.
"We are proud to play a role in helping the students of Long Beach High School celebrate this special milestone, and to give them happy prom memories, in spite of all the recent hardships they have faced," said Mr. Mandaro.