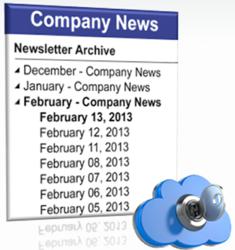 Even top multinational corporations have no centralized way to effectively manage and archive their corporate communications.
Tarrytown, NY (PRWEB) February 15, 2013
InfoDesk has developed an innovative Newsletter Archive iWidget, a content integration tool specifically designed to help organizations archive, store and search their internal newsletters and briefings more easily. Released this week, the Newsletter Archive iWidget automates internal newsletter archiving and management without taxing company IT resources. Request an online Newsletter Archive iWidget demo.
"Every day companies and other organizations are creating and sending more and more internal newsletters on a wide range of topics, everything from daily industry and company news to competitor updates, product news, and more," said Sterling Stites, CEO of InfoDesk. "What happens to all these newsletters once they are sent?" said Stites. "Well, in most cases, the answer is nothing." The new iWidget is designed to solve this problem.
According to Stites, even top multinational corporations have no centralized way to effectively manage and archive their corporate communications. Nor are most IT departments particularly interested in developing a solution or storing the newsletters. Consequently, employees are saving countless newsletters to their personal email folders, clogging email servers, "just in case" they might want to read something again in the future.
The new InfoDesk Newsletter Archive iWidget is an easy-to-deploy newsletter archiving tool that can be hosted by InfoDesk or deployed within a customer's own portal, such as SharePoint. The iWidget makes it easy for the HTML newsletters to be published and displayed on either a portal page or a web page. Additionally, each posted newsletter automatically creates an archive link (daily, weekly, monthly, etc.), providing easy access to archived content. Also, since InfoDesk archives the newsletters in the cloud, there is no need for internal IT departments to find a server and build a display mechanism.
The Newsletter Archive iWidget is just one of many InfoDesk iWidgets created to help organizations integrate content and facilitate access. Other types of InfoDesk iWidgets include, headline news, stock and search tools, to name a few. Additionally, InfoDesk provides sophisticated turnkey portal solutions to help clients meet all their content integration needs.
To help introduce Newsletter Archive iWidget, InfoDesk is offering complimentary online iWidget demos upon request. Request an online Newsletter Archive iWidget demo or contact InfoDesk directly at info(at)infodesk(dot)com or call 914-798-2432 (US) or +44 (0) 20-8350-3398 (UK).
About InfoDesk
InfoDesk (http://www.infodesk.com) specializes in information management solutions that help organizations integrate, deliver and share content resources more quickly, cost effectively and securely. For more than twelve years InfoDesk has helped some of the largest multinational corporations, top government agencies and media companies integrate, deliver and share large volumes of information more effectively. InfoDesk is based in Tarrytown, NY with offices in London and Washington DC.