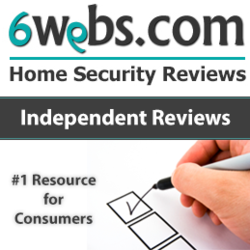 6Webs.com is the trusted home security resource among consumers.
Boulder, CO (PRWEB) February 15, 2013
6Webs.com, the leading provider for independent home security system reviews, released their rankings for the best security system companies in the state of Colorado. 6Webs.com is going state-by-state and releasing their rankings in order to help consumers make a decision on purchasing the best security system for their family. Colorado residents now have an unbiased resource to assist them in their research.
According to the FBI's Uniform Crime Report the state of Colorado has over 150,000 property crimes each year. Residents of Colorado understand the need to install a home security system to help from becoming a target.
Tim Smythe from 6Webs.com announced, "The 6Webs.com review team announced FrontPoint Security as the best home security company who conducts business in the state of Colorado. FrontPoint Security is also nationally ranked on http://www.6Webs.com. Nine out of ten editors on the 6Webs.com review team ranked FrontPoint Security as number one choice for consumers seeking the best wireless security system."
During the Colorado home security company reviews the 6Webs.com team discovered that technology and convenience also played an important role when Colorado residents selected the best home security system for their family. Wireless home security systems are in demand and so is the use of cellular monitoring technology. These are two services that FrontPoint Security provides. Cellular monitoring is more reliable and secure than a traditional landline or Internet connection.
The convenience factor comes in with remote access to the home security system from an iPhone or Android device. Home security customers have the ability to configure text message notifications and stream video directly to their mobile device. All of the top home security providers ranked on 6Webs.com offer remote services.
About 6Webs.com
6Webs.com is the leading provider in independent and unbiased home security system reviews. They are focused on delivering up-to-date information on the home security industry so consumers can make an educated decision when researching what is the best home security system for their family.