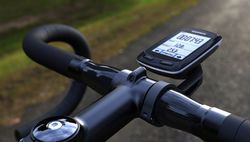 The level of improvements is so significant over the Edge 500 that we decided the new Edge 510 was worthy of bike computer of the year for 2013
Bozeman, MT (PRWEB) February 15, 2013
The new Garmin Edge 510 GPS bike computers have arrived at the Heart Rate Watch Company. "The level of improvements is so significant over the Edge 500 that we decided the new Edge 510 was worthy of bike computer of the year for 2013", says Rusty Squire, President of the Heart Rate Watch Company.
"I've seen several reviewers express disappointment with the level of improvements but, either they have not used one, or they are failing to carefully calibrate the advantages of this new update", says Squire. He adds, "I've ridden Garmin Edge bike computers for over 4 years and this is the nicest level of model improvement year over year I have seen".
THE REAL UPGRADE LIST
"Our favorite upgrade is actually the new Garmin Edge out front bike mount because this puts the device, and your eyes, about 15 to 25 degrees higher when looking at your data", says Squire. Also high on the list of upgrades was the migration of touchscreen navigation to the Edge 510 that first appeared in the Garmin Edge 800. "Both touch screen and better viewing angles make the bike computer safer to use and easier to use", says Squire.
The new Bluetooth Smart that is enabled within the Garmin Edge 510 and the new Edge 810 allow users to immediately upload their data, in real-time, to Garmin Connect and social sites like Facebook. "This real-time sharing would allow someone following you with a Smartphone and your Garmin Connect log-in to follow your heart rate, cadence, power and more in real-time", says Squire. He adds, "It is also a locational tool because if you aren't home then loved ones can locate you".
A new barometric altimeter and real-time weather reporting also makes the new Edge 510 more useful and a valuable resource.
GARMIN EDGE 510 AVAILABLE AND SHIPPING NOW
The new Garmin Edge 510 has just arrived and available for shipping by supplies are limited and Garmin will not have more models available until mid-March so the time to act is now if you want one of these units according to Squire.