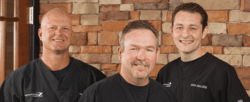 Fort Worth, TX (PRWEB) February 14, 2013
Dr. Arthur Mund of Fort Worth Dental is hosting a complimentary Dental Implants Seminar on Tuesday, March 5 at 6 p.m. at their Fort Worth dental office. Seating is limited, but there are still spaces available.
The seminar will focus on dental implants, and those in attendance will have the opportunity to have a consultation appointment with the doctor. There are also prize drawings planned with the possibility of winning a free dental implant.
Dr. Mund is the only dentist in Fort Worth, TX who is recognized as a Diplomate by the American Board of Oral Implantology, meaning that he is acknowledged as having the highest level of competence in implant dentistry, because he has demonstrated to the board his knowledge, ability and proficiency in dental implants.
Bringing this knowledge and experience to Forth Worth Dental, Dr. Mund offers expert implant dentistry procedures to his patients. With titanium implants, he is able to replace missing teeth with permanent tooth replacements and give patients the look and feel of their natural teeth.
Call (817) 900-9470 today to sign up for this exclusive dental implants seminar, located at the Fort Worth Dental office on 4620 Citylake Blvd. West Fort Worth, TX 76132. For more information about implant dentistry, visit http://www.fortworthdental.com.
Fort Worth Dental is a general practice offering patients personalized dental care for Fort Worth, TX. Dr. Terry M. Zang, Dr. Arthur J. Mund and Dr. Justin Mund are all dedicated to their dental practice, which offers the recent FDA cleared laser procedure for gum disease and periodontal treatment. Focused on preventative, restorative and cosmetic dentistry, they each have unique attributes for the practice. To learn more about Fort Worth Dental and their dental services visit their website at http://www.fortworthdental.com.