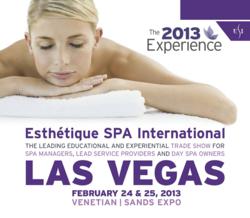 The #1 problem facing the spa industry today is the lack of quality, affordable education.
Las Vegas, NV (PRWEB) February 15, 2013
According to the Global Spa & Wellness Summit, the #1 problem in the spa industry is the lack of quality, affordable education. Leading spa trade show Esthétique Spa International (ESI) is proud to announce their upcoming educational spa show in Las Vegas February 24 – 25 at the Venetian Hotel/Sands Expo. ESI provides the best education at the most affordable price in the industry for spa managers, estheticians and massage therapists for only $60 per person for two days.
The theme for this year's show is The 6T's of Success. Says ESI Founder Bernard Renaud, "In order to be successful in the spa and wellness industry, we need to deliver products and treatments. Therefore, we need to know about the latest trends, techniques, and technologies. With quality training and developing trust, together we can raise the bar across the industry.
The Education
The line-up of Pro-Educators includes top thought leaders and spa directors from some of the largest and most renowned spa and wellness resorts. Speakers include Jeremy McCarthy, Director of Global Spa Development at Starwood Hotels and Resorts; Ella Stimpson, Chairwoman of the International Spa Association (ISPA) and the Executive Director of Spa and Salon Operations at the Encore at Wynn Las Vegas; Michael Tompkins, CEO of Miraval Resorts and Sallie Fraenkel, Executive Vice President of SpaFinder Wellness, to name a few. Additional speakers are listed on the website.
New in 2013: Day Spa Panel Discussion
Day spas are key players in the growing spa and wellness industry. Listen to Michael Tompkins, CEO of Miraval Resorts; Blake Feeney, Director of Spa and Wellness at Terranea Resorts; and Ben Campsey, Director of Finance at the Umstead Hotel and Spa will bring 55 years of combined experience to the panel discussion table.
New in 2013: Complimentary On-Site Spa Treatments During the ESI Experience, it's the spa leaders' turn to be pampered. Over 75% of attendee respondents from ESI's 2012 survey reported they are "interested in experiencing a new product or service" during the trade show. The ability to see, hear, taste, touch and feel a product and/or service is crucial to business success. "This is the very reason why trade shows remain important," says Renaud. "A personal experience with a spa product or service is what maximizes understanding, creates a memorable experience and helps foster relationships."
ESI Las Vegas Mobile App & Giveaways
ESI partnered with GoMobileNow to provide up-to-the-minute information to attendees via a Mobile App. Features will include Conference Registration, Schedule of Events, List of Speakers, Floor Plan, List of Exhibitors and hundreds of giveaways.
Watch the 3 minute promo video
About ESI Las Vegas
ESI Las Vegas is the premier spa and esthetic event in North America. The comprehensive educational program featuring Professional Development Seminars from renowned industry-leaders attracts all professionals and owners in esthetics and spa looking to expand their services. For more information, visit spashowusa.com.