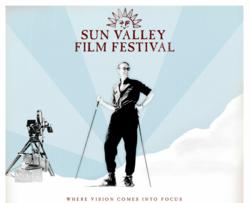 SUN VALLEY, Idaho (PRWEB) February 15, 2013
An eclectic assortment of short films, student films and music videos have been selected for screening at the upcoming 2013 Sun Valley Film Festival, March 14-17, presented by Zions Bank. The 20 short films, 13 student films and 15 music videos were selected based on their focus on story, no matter the medium. These additional films and videos will complement the outstanding lineup of 33 feature films to be presented throughout the festival weekend.
Of the selected short films, five are world premieres and one is a North American premiere. Idaho is well represented in the film and music video selection as 8 of the shorts were filmed in Idaho, and 9 of the music videos were made by Idaho filmmakers.
The full Sun Valley Film Festival film lineup can be viewed at http://www.sunvalleyfilmfestival.org. A few additional feature film selections will be announced next week.
SHORT FILM LINEUP:
A Hole in Tiger Mountain *World Premiere
Director/Writer: George Ducker
Producer: Jacob Strunk
Two new hires on a Santa Clarita cattle ranch have been instructed to take a local man into the hills and shoot him.
Alaska Is A Drag
Director/Writer/Producer: Shaz Bennett
Producers: Kaz Kipp, Jean-Pierre Caner
Leo stands out in a crowd. That's not always a good thing working in a fish cannery in Alaska. His dreams of leaving this small town are hard fought, until a new boy moves to town and sees him for who he really is—an international superstar.
Bus Stop
Director/Writer/Producer: Alex Beh
Producer/Writer: Brandon J. Sornberger
Two guys on the prowl for women. And Casserole.
Coffees
Info coming soon.
Exit Wound * Filmed partly in Idaho
Director: Hunter Holcombe
Sgt. Chess Johnson was shot through his eye while fighting in Iraq, and told he was no longer fit to serve. After struggling with alcoholism, drug dependency, PTSD and traumatic brain injury, he is invited to a unique program in Sun Valley, Idaho helping treat veterans and their spouses. The goal: to channel their addiction to adrenaline through outlets like skiing and paragliding.
Frontera
Director/Writer/Editor: Lacy Dorn
Producers: Lacey Dorn, Chloe La Branche, Lucy Dunlap
FRONTERA is a story of two childhood companions: Louise, a young Texan ranch wife, and Mary Catherine, a lonely young woman entrenched in the conservative ways of old Texas. Ignored by her idle husband and faced with financial ruin, Louise turns to the South Texas border's burgeoning drug trade for her own source of income. As the local drug cartel ensnares Louise, she struggles to keep separate a God-fearing community and a godless employer. Suspicious of her friend's behavior, Mary Catherine digs too deep, endangering the lives of all involved.
Magpie *World Premiere, Filmed in Idaho
Writer/Director: Joel Wayne
Producer: Troy Custer
Morris is a middle-aged, recently-divorced man recovering from pica, an addictive disorder characterized by an appetite for inorganic food, like chalk, metal, or detergent. When Morris' son, Peter, checks himself out of a sober living facility, Morris spends the day searching for him and finds himself relapsing in the process.
Mandrake Estate *World Premiere, Filmed in Idaho
Director/Writer/Producer: Zach Voss
Mandrake Estate is the most prestigious golf course within 35 miles, according to its loyal groundskeeper, Brooks Llyodman. But the staff and members become divided over budget decisions, risking the peaceful nature of Mandrake across all 18 holes, and beyond…
Morning Mic *World Premiere, Filmed in Idaho
Director/Writer/Producer/DP: Andrew Crawford
A popular radio DJ struggles to find meaning in life.
Mr. Twister
Director/Writer/Producer: Clay Westervelt
Autistic teen Brian Tolley discovered an unusual form of art therapy for himself – he creates action figures, spaceships, life-sized swords and shoes… all from twist-ties. Years ago, Brian was withdrawn and nearly nonverbal. In discovering "twisting", he has found a creative outlet that lets him explore his imagination and break out of his formerly impenetrable shell.
No Love Song * World Premiere
Director: Joselito Seldera
Producers: Haroula Rose, Nick Bertelsen
What happens when ex-lovers and collaborators have to write one last song? Lee (Ahearn) and Julia (Rose) broke up and it was a disaster. Their manager (Arquette) has to get them together for one last song. Sparks fly, drama ensues, and a song is written.
No Playground for Little Cowboys * North American Premiere
Director: Carl Rock
A Bugsy Malone style Western without the singing!
Palimpsest
Director: Michael Tyburski
Producer: Ben Nabors
Cinematographer: Todd Banhazl
Peter, a successful house tuner in New York City, meets Ellen while consulting on her apartment. As a house tuner, Peter offers his clients a unique form of therapy that examines subtle details in living spaces that sometimes reveal more about a person's past than they intended.
PB&J
Director/Writer: Brian Goodwin
Producer: Fury Young
PB&J is a home-cooked project, including volunteer efforts of some 20 working professionals. Of the year it took to make the film, six months were spent fabricating a 1/12th-scale miniature to be used in shooting our pivotal Peanut Butter & Jelly factory. It was a labor of love, filled to the gills with craft and care. Hope you enjoy!
Silk
Director/Producer/Writer: Catherine Dent
Writer/Co-Producer: Eyal Alony
Oscar nominee Shohreh Aghdashloo plays Rani, a woman given away and forced to marry at age 11. Now middle aged and living with an abusive man she never loved, Rani finds a unique opportunity to reclaim the life taken long ago when she was forced to become a child bride.
STZ * Filmed in Idaho
Director/Producer/Editor: Kirsten Strough
"Is one night of passion worth roaming the earth as an undead monster?" At their freshman orientation, students are shown a PSA warning against more than just the dangers of drugs and alcohol, but also against the recent breakout of STZ: Sexually Transmitted Zombies.
The Last Straw
Director/Producer: Anna Dokoza
Producers: Kyle Segal, Troy Miller
A woman's controlled and polite facade cracks spectacularly at a party in front of her very embarrassed husband and an audience of his co-workers.
The Seed *World Premiere, Filmed in Idaho
Director/Co-Writer/Editor: Christian Lybrook
Producer/Co-Writer: Chris Brock
When a curious seed arrives in an unmarked envelope, it leads a broken man on a journey to uncover its meaning.
The Test
Director: Anthony DiBlasi
Writer: Lauren Bowles
Producer: Joe Daley
At first glance, Margot and George seem like a fun-loving couple taking a pregnancy test, but we soon learn that they are anything but and that much more is being tested.
The Yellow Wallpaper *World Premiere, Filmed in Idaho
Director: Jesse Cordtz
Executive Producer: Jane Merrow
The Yellow Wallpaper takes place in the old nursery of a dilapidated Victorian home. The woman, played by Jane Merrow, is nervous and high strung, therefore her husband, a doctor, has confined her to this nursery to help cure her disposition. This however has the opposite effect as her neurosis begins to take over and the wallpaper in the room begins to come to life.
STUDENT FILM LINEUP: (filmmakers under age 18)
A Quest for Peace: Nonviolence Among Religions
Director/Writer: Matthew J. Evans
11th grader at Laurel Spring School
Beyond Primary
Director of Photography: Stephan Chaikovsky
Co-Director: Colin Coperthwaite
Writers: Colin Cowperthwaite, Stephen Chailkovsky
10th graders at Colorado Academy
Bookstore
Director/Writer: Alexander Haney
10th grader at Harvard-Westlake School
Finding Erica Jones
Director/Writer: Natalie Markiles
With art and animation by August Blum, George Khabbaz, and Natalie Markiles
12th graders at Harvard-Westlake Summer Film Program
Left
Director/Writer: Travis Chen
10th grader
Patapalo
Director: Andrew Fowler
Writer: Fidias Peñate Jr.
9th grader at South Cache Center
Recipe for Love
Writer/Director: Gwyneth Christoffell
11th grader
Skating Partners * Made in Idaho
Directors: Antonia Avery, Savanna Rush, Sascha Leidecker, Emma MacGuffie
Writers: Sascha Leidecker, Emma MacGuffie, Murphy Kendall, Antonia Avery, Savanna Rush
Teacher Advisor: Mr. Slonim
5th graders from Hemingway Elementary School.
Tandem
Director/Writer: Max Montoya
12th grader at Greenhill High School
The Painted Girl
Director/Writer: Ben Kadie
12th grader at Interlake High School, Bellevue, WA
Time Travelling Kids * Made in Idaho
Directors/Writers: Murphy Kendall, Sascha Leidecker, Chris Pedersen, Emma MacGuffie
Teacher Advisor: Mr. Slonim
5th graders from Hemingway Elementary School.
To All Gates
Director/Writer: Stephan Chaikovsky
11th grader at Colorado Academy
You and Me
Director/Writer: Amanda Reiter
11th grader at Harvard-Westlake School
MUSIC VIDEO LINEUP:
"Benchwarmers" by Finn Riggins * Made in Idaho
Director/Animator: Jason Sievers
"Breakers" by Local Natives
Director: Jaffe Zinn
"City of Light" by The London Souls
Director: Eric Kiel
"DUHNK" by Owlright * Made in Idaho
Director: Owlright
"Freckled Mary" by State Radio
Director: Michael Parks Randa
"Done To My Love" & "East Coast Dying" by Gayze * Made in Idaho
Director: Tyler T. Williams
"GreyHound" by Jonathan Warren and the Billy Goats * Made in Idaho
Director: James Hansen
Producers: James Hansen, Ben Molyneux
"Living" by Arrested Development
Directors: Speech Thomas, Tony Reames, Nsil, Jason 'Jahah' Berry
"Pawn Shop Guns" by T.W. Walsh *Made in Idaho
Director: Joel Wayne
"Shazam" by SERENGETI
Director: Alex Beh
"Sisters" by AVAN LAVA
Director: Dan Gutt
"The Lucky Ones" by Kerli
Director: Ethan Chancer
Creative Director: Brian Ziff
"Vibe So Hot" by Priscilla Ahn
Directors: Gavin Kelly, Charles Chu
"When Frida Became" by Project 213 *Made in Idaho
Directors: Stephanie Michelle Lokelani, Gene Eilebrecht
"You Are Minez" by Jean Sebastien Audet *Made in Idaho
Director: Tyler T. Williams
About the Sun Valley Film Festival:
The 2nd annual Sun Valley Film Festival, March 14-17, will feature a curated slate of over 60 cutting edge films and TV premieres, engaging coffee talks with industry insiders like Hollywood legend Jodie Foster, fabulous parties with top entertainment including indie rock legends Built to Spill, a Screenwriter's Lab led by Independent Spirit Award nominee Will McCormack, and a spectacular Alaska Airlines Closing Awards Après-Ski Ceremony. This spring, filmmakers from around the world will bring their vision to the Sun Valley Film Festival and movie lovers are invited to watch it come into focus.
For Festival details and tickets: http://www.sunvalleyfilmfestival.org. Get Festival updates on Facebook and Twitter.
The Festival is presented by Zions Bank. Major sponsors include Alaska Airlines, Nat Geo WILD, Sun Valley Resort, Tito's Handmade Vodka, SVPN, and InkTip.
Media Contact:
Carol Waller, CW Communications, carol(at)cw-communications(dot)com, 208-720-3965