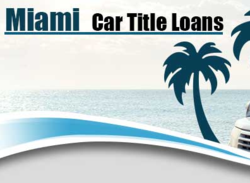 Miami, FL (PRWEB) February 23, 2013
According to a recent TC Palm article, Florida's economic recovery has been 50 percent slower than the national average—which includes 40 percent of Florida's mortgage borrowers being under water.
Not only is the recovery sluggish in Florida, but it is increasingly difficult for Floridians to obtain any financial relief. Now more than ever, people are in need of money. In the face of this, Florida has embraced non-traditional lending.
Miami Car Title Loans, the leading auto title-based lender in Miami, is proud to provide continued quality service and peace-of-mind to Miamians and all of Florida.
Recently Houston, Texas adopted hard-line legislations against auto title lending.
"Restrictive regulation is needed to curtail the abusive practices that can be found within the industry, and to reduce the cycle of debt that is imposed on the economically disadvantaged," City Attorney David Feldman said.
While we recognize that there are lenders in the industry who try to take advantage of would-be borrowers, Miami Car Title Loans has a long record of a fast and painless loan process along with some of the lowest interest rates in Florida and the Nation.
These new laws put limits on how much can be borrowed and how long the loan can last. Florida, however, has stood fast beside our industry—allowing Miamians and Floridians alike to access the extra funds they need to face the struggling economy.
We see car title loans as a useful tool for people who may have run out of options. Eric Dyson, long-time employee at Miami Car Title Loans, put it this way:
"I believe that car title loans are a marvelous financial instrument for people in need of short term funds. A lot of traditional lenders run credit checks which are often times deleterious to the poor credit borrower. This sort of pernicious approach to lending only harms individuals in a less than optimal financial situation."
As states begin to try to legislate against citizen's ability to attain capital for their assets, Miami Car Title Loans is thrilled to be in a state that embraces its citizen's rights. With ease of access and an expedient loan process, our doors are open to all Miamians.
We look forward to continued service and a working relationship with the state of Florida.