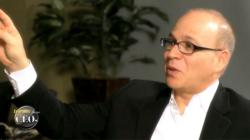 David's organizational skills and ability to motivate and provide useful workable solutions make him the perfect individual to include in our SarderTV interview collection
New York, NY (PRWEB) February 15, 2013
David Hershfield, current Senior Vice President of Online Technology at Redcats, past executive with both PayPal and eBay and CEO of In-Stock Storage Products, provides his personal views on managing successfully in an interview with Russell Sarder, author, entrepreneur, and CEO of Learning. Sarder TV provides intimate profiles and discussions with CEOs, leaders in education and business, and top authors.
"David's organizational skills and ability to motivate and provide useful workable solutions make him the perfect individual to include in our SarderTV interview collection," said Russell Sarder, CEO of SarderTV.
David Hershfield is a global business executive with years of experience as a senior administrator with internationally known companies such as eBay and Paypal where he was responsible for providing solutions that facilitated sustainable business growth and improved the customer experience. He was also CEO of his own multi-million dollar company In-Stock Storage Products, Inc.
In eleven absorbing video clips, David Hershfield shares his views on multiple topics including communication, hiring , team dynamics, motivating employees, and his views on the importance of knowledge management and team building. He talks passionately about the need for employee training equating it with the same importance to the company bottom line as being able to 'keep the lights on.' He also explains his adherence to the policy of 'fail fast, fail early, and fail often, as a road to ultimate success.
Don't miss this exclusive interview with former Senior global director of eBay David Hershfield visit http://sardertv.com/tag/david-hershfield/
SarderTV is also seeking leaders to interview and is targeting leaders from Fortune 500 companies, and exceptional public figures like Bill Clinton, Oprah Winfrey, Jim Collins, Bill Gates, Warren Buffet and many more. According to the National Venture Capital Association, more than 30 percent to $600 million this year has been invested in Web-based education. For investors seeking an opportunity to participate in a multi-million dollar idea SarderTV presents an excellent investment and is actively seeking investors. Several investors have already expressed an interest in this innovative idea. Investors interested in becoming a part of SarderTV are invited to get in touch as well RussellSarder@NetComLearning.com.
To learn more about Sarder TV or to get involved visit http://sardertv.com/about-us/
About Sarder TV
SarderTV is a learning channel that contains a series of exclusive educational interview videos from top leaders in their industries, as well as motivational videos encouraging our public to succeed in their personal and professional lives, and many more. Russell Sarder, CEO of Sarder TV, has interviewed a series of leaders, who have shared their experiences and how they were able to achieve their success. Some of the names that Sarder has interviewed are: Ira Neimark, former CEO of Bergdorf Goodman; Russ Edelman, co-author of Nice Guys Can Get the Corner Office, Dan Hoffman, David Hershfield, SVP Online Technology at RedCats, and many more.