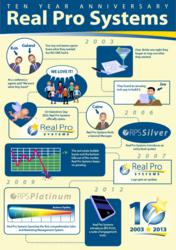 I'm thrilled that we created something that has helped so many thousands of agents
Eugene, Oregon (PRWEB) February 15, 2013
What started as "a few hard-working people in a back room" has grown into a highly-capable staff of nearly forty. Yet in spite of this growth, Real Pro Systems continues to emphasize a high-touch approach to the customer support and client relationships.
Real Pro Systems was founded by two agents who are still active in real estate today. Along with a third agent with a background in technology, the three set out to build a system that had all of the elements that they wanted. This ongoing involvement from active agents enabled Real Pro Systems to develop Internet marketing solutions that are tailored to the unique considerations of real estate professionals.
According to co-founder Galand Haas, "It is exciting to see that today, ten years later, Real Pro Systems remains focused on providing agents what they need to compete and remain profitable by having active agents involved with the design, implementation and training of all systems."
Co-founder Rob Levy added, "I'm thrilled that we created something that has helped so many thousands of agents do a better job for their clients and their businesses. I'm excited about what we have coming down the road."
While the real estate market has seen its ups and downs, Real Pro Systems' growth has remained steady and the company has maintained profitability in each of its ten years. Additional management depth with software and technology experience has helped manage this growth. Rather than trim staff and cut resources during the recent challenges in the real estate market, the company took the opposite approach and increased its customer support staff to better serve clients. Real Pro Systems is a proud local success story and is currently adding to its team. The company expects to continue expansion as the overall real estate market rebounds.
"Inspiration comes from many sources, and today's Real Pro Systems is proof of that," commented Joe Lininger, Co-Founder and Director of Professional Services. "We are grateful to work with such a phenomenal group of caring people."
Real Pro Systems' products have changed tremendously over the past decade. Rather than rely on legacy systems or outdated technology, the company continues to innovate by working with partners to incorporate the latest technology and consulting with real estate professionals to identify features and tools that add value.
Caine O'Brien, Real Pro Systems General Manager, remarked, "Everyone at Real Pro Systems shares a commitment to providing outstanding technology and outstanding customer service; high-tech and high-touch. We fully expect the next ten years to bring substantial expansion. It's a very exciting time for Real Pro Systems."
Over the course of the next ten months Real Pro Systems will highlight some great moments from the company's past and share sneak peeks into the future through social media, blog posts and events. Please join Real Pro Systems in celebrating this important milestone!
ABOUT REAL PRO SYSTEMS:
Founded and headquartered in Eugene, Oregon, in 2003, Real Pro Systems has provided the broadest selection of Internet marketing products and services available in the real estate market. Its websites and solutions feature the latest technology serving the needs of individual agents as well as teams and brokerages and are backed by highly acclaimed customer service. For more information, visit http://www.realprosystems.com; http://www.facebook.com/realprosystems or call (541) 743-8500.