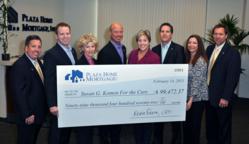 Plaza Home Mortgage is proud to support Komen's mission of finding the cure and ending breast cancer forever
SAN DIEGO, CA (PRWEB) February 16, 2013
Plaza Home Mortgage, Inc. raised $99,472.37 for Susan G. Komen for the Cure® during its month-long campaign to support breast cancer prevention and cure.
To recognize Breast Cancer Awareness Month, Plaza Home Mortgage, Inc. pledged to make a donation to Komen for every loan closed from October production. As a result of the extraordinary efforts of Plaza associates and customers nationwide, Plaza Home Mortgage was able to raise $99,472.37.
"Plaza is proud to support Komen's mission of finding the cure and ending breast cancer forever," said Kevin Parra, CEO and Co-founder of Plaza Home Mortgage. "So many people are touched by friends or loved ones fighting this disease, but I have to say we were overwhelmed by the impact this had on our associates; we heard an outpouring of personal stories when we announced our pledge."
Plaza Home Mortgage's gift will help fund the largest investment in breast cancer research in the world next to the U.S. government and the largest program of free breast cancer treatments and services for America's uninsured women and their families.
"The generosity of Plaza Home Mortgage's executives and employees will provide women across the country with hope, caring and a chance to survive this deadly disease," said Laura Farmer Sherman, Executive Director of Susan G. Komen for the Cure, San Diego.
Kevin Parra, President, James A. Cutri, EVP National Production and Michael Fontaine, Chief Financial Officer, presented the check to Laura Farmer Sherman, Executive Director of Susan G. Komen for the Cure®, San Diego at Plaza Home Mortgage headquarters in San Diego on February 14, 2013. Plaza senior executives attending included Ralph Lovuolo, SVP Lending Operations; Michael Modell, SVP Capital Markets; Julie Manson, SVP Risk Management; and Karen Neidhart, SVP Underwriting.
"As one of the larger mortgage Wholesale/Correspondent companies across North America, we are in a unique position to increase awareness to our customers nationwide," explains James Cutri, EVP of National Production and Co-founder of Plaza Home Mortgage.
The gift from Plaza Home Mortgage, Inc. represents the efforts of its employees and customers in all 12 regional offices, two divisions and corporate headquarters.
About Plaza Home Mortgage
Plaza Home Mortgage, Inc. is a privately-owned, full-service Wholesale and Correspondent Mortgage Lender founded in 2000. Headquartered in San Diego, California, Plaza maintains Operations Centers and employs staff nationwide. The company offers a variety of simple, affordable financing options designed to meet the needs of the majority of brokers, correspondent partners, and borrowers, such as Conventional Fixed rate, Conventional ARM, FHA, VA, Reverse Mortgages and non-conforming loans. Plaza is dedicated to building quality, long-term relationships with its customers by offering comprehensive programs and exceptional customer support. For more information, visit http://www.plazahomemortgage.com.
About Susan G. Komen for the Cure®
For nearly 30 years, Susan G. Komen for the Cure® has been working to save lives, empower people, ensure quality care for all and energize science to find a cure for breast cancer. Susan G. Komen is the largest funder of breast cancer research in the world, next to the U.S. government. Locally, the San Diego Affiliate (one of 120 affiliates) is the largest provider of free breast cancer treatments, services and support of any organization in San Diego County. For more information about Susan G. Komen for the Cure, breast health or breast cancer, visit http://www.komen.org or call 1-877-GO-KOMEN (1-877-465-6636).
###