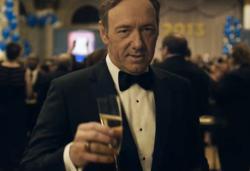 While it's certainly not the real world, Fincher's take on Capital Hill fashion is actually rather accurate
San Francisco, CA (PRWEB) February 15, 2013
Mens-Ties.com, a well-known online retailer for men's fashion accessories, has just published a series of articles focusing on the new Netflix series House of Cards' take on Capital Hill fashion.
"We're really excited about Netflix's House of Cards for a variety of reasons," says Pohl. "For one, we're simply fans of the show, as it features some of the best directing in the industry today. Another reason we can't stop watching House of Cards, though, is that there are some very interesting fashion choices at play. We spend a lot of time looking at political fashion in the real world, so this is a great opportunity to see what Capital Hill looks like in the eyes of a director."
Each piece in the series focuses on one specific character in the House of Cards series, analyzing his approach to style and the types of clothing he tends to wear. The president (played by Michael Gill) is highlighted, for example, for his youthful approach to presidential style, while the main character Frank (played by Kevin Spacey) is given credence for his smart, well-tailored approach. Three other characters from the series are also given their own articles.
"One of the best things about the fashion we're seeing on House of Cards is that every character has their own specific look," says Pohl. "Take the character of Lucas Goodwin, for example. This Washington Herald editor takes a 'smart casual' approach to fashion, and it fits his character perfectly. David Fincher is proving with this series that not all aspects of Capital Hill revolve around the power suit; there are plenty of other looks that need to be taken into consideration."
In addition to covering television and celebrity style, Mens-Ties.com has also published a variety of series on real-life political fashion.
"Politicians know that they need to dress to impress in order to get people on their side," says Pohl. "It's been a lot of fun - especially in the past year - to highlight Capital Hill fashion, and this is just another way of doing so. While it's certainly not the real world, Fincher's take on Capital Hill fashion is actually rather accurate for the most part. There isn't a single character on the show that looks as if he's wearing something that he shouldn't, and that's more effective than most people probably realize."
For more information, please visit: http://www.mens-ties.com/mens-fashion-trends/