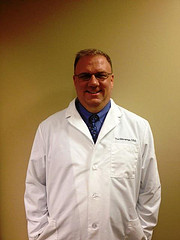 This procedure is really revolutionary because instead of using six, eight, or even more implants that often involve bone grafting, we're able to give our patients an entire smile makeover with just four implants for each arch
Algonquin IL (PRWEB) February 15, 2013
Algonquin, IL dentist, Dr. Tim Stirneman of All Smiles Dental, recently introduced the All-on-4 dental procedure to help his patients wearing traditional dentures or in need of full restorations finally get the Hollywood smile they've dreamed of. The All-on-4 procedure is less invasive and less expensive than typical implants required for individual teeth.
Unlike traditional dentures that can break, fall out, or not fit properly, the implant dentures provided by the All-on-4 procedure are fixed, non-removable, and are custom fit to each patient to ensure a healthy, natural-looking smile. Traditional dental implants require multiple titanium anchors to be inserted in the jawbone of the patient to support each new individual tooth. The All-on-4 procedure uses only four titanium anchors for each arch that permanently secure the replacement teeth.
"This procedure is really revolutionary because instead of using six, eight, or even more implants that often involve bone grafting, we're able to give our patients an entire smile makeover with just four implants for each arch," said Dr. Time Stirneman. "But best of all, we can typically complete this procedure in just one office visit so our patients don't have to wait weeks or month for that new smile they've always dreamed of."
Patient reviews of Dr. Tim Stirneman report that in addition to satisfaction with the technology and products offered at the practice, they also notice the staff's efforts to make their dental experience different.
"I recently had to have all of my lower teeth pulled. I was very nervous but Dr. Stirneman and his staff all set me at ease," said Jennifer L, a patient of All Smiles Dental in Algonquin, IL. "I found all of the staff from the moment I stepped through the door very comforting. They made my experience a good one."
Dr. Tim Stirneman works alongside Dr. Chad Ollom at All Smiles Dental in Algonquin, IL who is certified in cosmetic dentistry, Botox and dermal fillers, orthodontics and Invisalign. Dr. Stirneman and Dr. Ollom provide comprehensive dental care including TMJ dentistry, sleep disorder dentistry, emergency dentistry, sedation dentistry, gum disease treatment and more.
Dr. Stirneman has been a practicing dentist for more than 25 years and completed his dental education at Creighton University School of Dentistry. He is highly involved in continuing education, completing courses in emergency medicine dentistry, oral pathology, local anesthesia and more. Dr. Tim Stirneman is a member of the Algonquin Dental Study Club, Illinois State Dental Society and American Dental Association.
To find more information about Dr. Tim Stirneman and reviews of All Smiles Dental in Algonquin, IL, please visit http://www.AllSmilesDental.com and https://www.youtube.com/watch?v=NI3G0GfEHKw