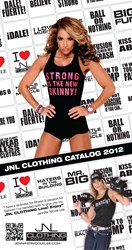 One of the brightest stars of the fitness world, intl super fitness model, actress, author and a business mogul, Jennifer Nicole Lee will be adding amazing items from her JNL Worldwide Inc. empire to the "Everybody Wins at the Oscars®" Nomine Gift Bags
Los Angeles, California (PRWEB) February 15, 2013
One of the brightest stars of the fitness world, international super fitness model, actress, author and a business mogul, Jennifer Nicole Lee will be adding some amazing items from her JNL Worldwide Inc. empire to the "Everybody Wins at the Oscars®" Nominee gift bags, including her [JNL Clothing line best sellers and her "Fun Fit Foodie Cookbook".
This non-stop, most sought-after fitness expert and motivator has just finished hosting her 3rd Annual JNL World Conference on South Beach, Miami where she brought together the movers and the shakers of the fitness, wellness and beauty industries to network, learn from each other and also get certified in JNL Fusion training method, which is predicted to be the hottest fitness trend of 2013.
Move over world, as Jennifer Nicole Lee conditions you for nothing but greatness. As the conference attendees from all over the globe go back to their home destinations this week, social networks are blowing up with sincere tears of joy, pride and newly-received inspiration to conquer the world by staying true to their authentic selves and following their dreams and aspirations.
Speaking of inspiration - "Strong Is the New Skinny", "Kiss My Abs", these among other empowering messages cleverly crafted by Jennifer Nicole Lee herself grace her JNL clothing items which will be added to this year's "Everybody Wins at the Oscars®" Nominee Bag, along with her bestselling cook book entitled "The Fun Fit Foodie".