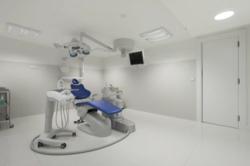 Hove, East Sussex (PRWEB UK) 17 February 2013
Bruno Silva, head dental surgeon at Brighton Implant Clinic, is advising customers about how to get a natural smile, should you suffer from damaged or broken teeth.
"Gone are the days when treatment for implants used to be very lengthy process. Today we are able to provide dental implants in just one day. This means that someone without teeth is able to get fixed teeth on dental implants in just one day."
The revolutionary treatment is known as 'teeth in day'. With this procedure patients are able to have surgery in the morning and be able to eat with fixed teeth on the same day. Patients undergoing this procedure will find they are able to eat normally and will not experience the discomfort that can be bought on by dentures.
Here are Bruno's top tips to consider before having the treatment:
Dental implant treatment needn't be expensive
You can have a free consultation with your dentist and this will give you the opportunity to consider your options and make an informed decision. It might cost up to £2500 for an individual tooth with the minimum fee around the £1000 mark. It is highly recommended that you do your research before opting for surgery. However, the success rate of this type of cosmetic surgery is more than 95% - but if you have any concerns then please speak to your dentist.
Treatment and recovery
The total recovery and the treatment process are highly dependent on the nature of the implants and the health condition of your jawbones. If the jaw bones are damaged, special surgery is required to fix it with a bone graft. This might prolong the recovery period.
The dental implant procedure
A small titanium rod will be inserted in the jaw bone. The procedure can be carried out under local anaesthetic or sedation. The jawbone will fuse with the titanium rod in a period of around 4 to 6 months. After a complete recovery you can enjoy the benefits of a fixed teeth that will match the exact shape of your other natural teeth.
Post-surgery and beyond
These kinds of procedures play a vital role in eliminating dental problems and ultimately giving you a perfect smile back. Patients comment that they are able to eat normally again and find that self confidence is improved with fixed dental implants.