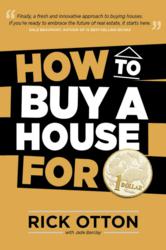 My strategies are simple. All it takes is willingness from you to see and do things a bit differently.
Melbourne, Australia (PRWEB) February 16, 2013
Recent data shows units are the fastest selling markets in Melbourne. More first-time home buyers prefer purchasing smaller properties and units since houses continue to become even more costly.
"The best way to take advantage of the immense opportunity in Melbourne is to consider alternative strategies to purchase any property – even if you can't afford it – without money or banks. And that's what I'll teach you guys in my upcoming training seminar right there in Melbourne," property strategist and self-made millionaire Rick Otton said.
Mr. Otton has been transacting houses for more than 30 years now using his creative real estate strategies. These strategies helped him build his portfolio of more than 76 properties in 12 months. He was able to purchase properties in the US, UK, Australia, and New Zealand proving his strategies work in any location and market cycle.
Property Investing in Melbourne
Melbourne home values continue to increase making it even more difficult for home buyers to purchase property. Property experts say, "Affordability thresholds for townhouses have been breached. Many young home buyers are now opting to purchase older apartments and updating them."
On the other hand, with Rick Otton's strategies, anyone could enter Melbourne property market without the stress and pressure that is common when one purchases through traditional methods.
"My strategies are specifically developed to eliminate the need for banks and loans when purchasing houses. These strategies are designed to innovatively solve people's problems – whether they are trying to get away from their mortgage debt or struggling to enter the property market. My students and I are living proof of the effectiveness of these strategies," Otton said.
Among the many students of Otton who has benefitted greatly from his creative property investment strategies is Tim Hart. "One of the biggest things I learnt from Rick is it doesn't matter what happens in the world – if I lost everything I owned right now I know I'm going to be okay. Because I know that I have the skill set to go and do it all again and I am going to have a lot of fun and I'm going to help a lot of people doing this at the same time," Hart said.
"My strategies are simple. All it takes is willingness from you to see and do things a bit differently. Whether you have never invested in property or are a seasoned investor or own your own home, you'll be surprised by what you'll discover, you'll be surprised to learn how easy property investing could be," Rick Otton said.
To learn more about Otton's creative property investment strategies, come to his free one-day training seminar in Melbourne on February 23. Register now at HowToBuyAHouseForADollar.com to ensure you don't miss out on this amazing opportunity.
About Rick Otton
Rick Otton has spent decades making money by snapping up inexpensive real estate and putting it to work building wealth. Now, he's teaching other Aussies how to do the same.
Otton is the founder and CEO of We Buy Houses, which operates in the U.S., U.K., Australia and New Zealand putting his strategies to work every day.
Otton got his start in alternative real estate investment in 1991 and within a year acquired 76 properties. In years after, Otton made a fortune using his low-risk, high-reward strategies to inexpensively acquire real estate.
Now, Otton wants to share the wealth by sharing the wisdom, teaching Aussies how to buy and sell real estate without cutting banks and other middlemen in on the deal.
Otton has been featured in a variety of television programs and magazines, including Today Tonight, A Current Affair, Australian Property Investor and more.
You can learn more about Otton and how to invest in residential real estate without using banks at http://www.rickotton.com.
Details of Mr Otton's free one day training events can be found at HowToBuyAHouseForADollar.com/register