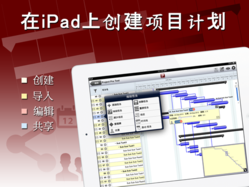 Very intuitive and easy to use - Like the app. It offers the most useful features of Microsoft Project with a simplistic, but functional, user interface.

- Z CVN (United States)
Mystic, Connecticut (PRWEB) February 22, 2013
Project Planning Pro is a project management app for iPad. Create project plans with Project Planning Pro or import existing 'Microsoft Project plans' and edit/update it easily on the iPad. The built in schedule engine of the app assists users to plan effectively.
Project Planning Pro was first launched in April 2012 at Microsoft Project Conference in Phoenix, Arizona, USA and has since then gained worldwide popularity. The app has been well received by the Project Management community and was recently nominated for the 'best app ever awards' in the Business Category.
The app's user base ranges from government agencies, corporates, to independent contractors. The app is also used to plan pharmaceutical research, construction projects, track local charity events and simple kitchen renovation projects across the globe.
Existing 'Microsoft Project' plans can also be imported via Email, Dropbox or iTunes. Project plans can also be exported back to 'Microsoft Project'.
The interactive Gantt view, bird's eye view, filters and zoom options makes it very simple to manage complex and large plans. Gantt View enables quick modifications to task start/end dates, task durations and percentage complete. Create task links by just moving the Gantt Bar.
The app provides different views - timeline view, calendar view and critical path view for project analysis. Teams can be built within the app and resources can be allocated for tasks. Send email notifications to resources, requesting for task status updates.
Testimonials and Reviews:
Great app! - I use it every day for my work. It allows me to manage all my projects.

Jean Bernard Miglietti (France)
I love it - It is an amazing application, and it is easy to use Thank you

Aziz Ben Taleb (United States)
Great app - I love using this program for my construction projects.

Best of the best - really great, I recommend it 100%
-Carlos Cano (Mexico)
Very intuitive and easy to use - Like the app. It offers the most useful features of Microsoft Project with a simplistic, but functional, user interface.

Device Requirements:
iOS 5.0 or later
Designed for iPad
6.2 MB
Pricing and Availability:
Project Planning Pro (Simplified Chinese) is available exclusively through the China App Store in the Business Category for CN¥ 40
iTunes store Download link:
Available in the China App Store
Website Link:
Project Planning Pro Website - Project Management app for iPad
Based in Mystic, Connecticut, i2e Consulting is a software services company providing innovative Enterprise solutions to clients across the Globe. i2e Consulting is a Microsoft Certified partner with niche in Portfolio Project Management. i2e Consulting Mobile division is developing on iOS, Android and Windows Apps.
Copyright © 2012 i2e Consulting. All Rights Reserved. Apple, the Apple logo, iPhone, iPod and iPad are registered trademarks of Apple Inc. in the U.S. and/or other countries. Microsoft and Microsoft Project are registered trademarks of Microsoft Corporation in the U.S. and/or other countries.