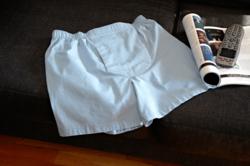 What a great pair of underwear.
West Columbia, SC (PRWEB) February 19, 2013
Finally, a product the whole family will love, for the man that walks around the house in his boxers. Ubatuba brand of men's boxer shorts design prevents fall-out. The off-center fly that Ubatuba has is not only more comfortable, but, the family will also be so appreciative. And with the colored Ubatubas, men can even go to the mail box while wearing them. They look like shorts really from a few feet away.
But the Ubatuba design does not stop there. Ubatuba also has a thicker front that will prevent any after restroom spot from forming on ones trousers. Now no more worries when going out to restaurants even if wearing khaki colored pants.
Ubatuba boxer shorts form and function, along with great comfort, gives a man what he wants. A great pair of boxer shorts.