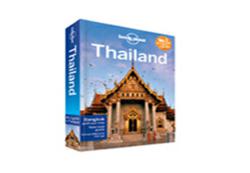 We're delighted to see the Thailand guidebook top the latest list of these guidebooks. As a provider of travel and tourism information ourselves, it is great to be connected in this way to a similar resource like Lonely Planet
(PRWEB) February 15, 2013
Now marking its 30th anniversary, the latest edition of the market-leading guide on Thailand covers what its editors call "the fresh, the transformed, the hot and the happening, from new transport routes to get you to the beach faster, flights through the canopy in Ko Tao and stylish sleeps for all the hip new hotels in Bangkok."
After covering 3,219 km of coastline and over 150 temples, the Lonely Planet writers completed 37 weeks of in-depth research to declare: "Friendly and fun-loving, exotic and tropical, cultured and historic, Thailand beams with a lustrous hue from its gaudy temples and golden beaches to the ever-comforting Thai smile."
TAT Governor Suraphon Svetasreni noted, "We're delighted to see the Thailand guidebook top the latest list of these guidebooks. As a provider of travel and tourism information ourselves, it is great to be connected in this way to a similar resource like Lonely Planet."
Thailand -- and a few of its world-class destinations – has appeared at the top of several lists. Then there are the frequent shout-outs in Lonely Planet's special features on specific travel destinations for various categories. For example, Chiang Mai is a perennial hotspot and Bangkok's Chinatown a frequent favourite.
Regarding Chiang Mai, Tom Hewitson, Lonely Planet's Destinations Editor, has recommended the famous northern Thai city as one of the best places to be for the New Year Countdown. He praises Chiang Mai's reasonable prices, beautiful winter weather, and fun-loving atmosphere.
One memorable night at a rock concert on New Year's Eve, he described tens of thousands of Chinese lanterns illuminating the sky. The northern mountain town of Pai is also recommended as the perfect laid back follow-on destination, a place to relax, unwind, and cleanse away one's aches and pains simmering in the natural hot springs of the area.
On the more exciting and dynamic side, Lonely Planet advises its readers to "Enter the Dragon" and explore Bangkok's exhilarating Chinatown. The article notes that one hasn't fully experienced Bangkok until "you've entered the dragon," a.k.a. Yaowarat Road. This teeming, bustling neighbourhood has been plying its diverse wares since Bangkok's founding in 1782, and is popular with not only tourists but also locals who have their favourite shops, vendors, and restaurants along the street.
For information about the RECOMMENDED BY LONELY PLANET 2013 programme, and other features on Thailand, visit http://www.lonelyplanet.com.
Contact information:
International Public Relations Division
Tourism Authority of Thailand
Tel: +66 (0) 2250 5500 ext. 4545-48
Fax: +66 (0) 2253 7419
E-mail: prdiv3 (at) tat (dot) or.th
Web site: http://www.tatnews.org