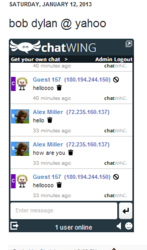 San Francisco, CA (PRWEB) February 19, 2013
After conducting researches about the prominence of global chat, the Chatwing Dev Team has decided to overhaul its chat widget and integrate new features. The latest version of the chat tool can be used for a continuous Facebook chatting experience, along with a sheer website marketing opportunity. The chat tool also features a background image setup that can contribute to any web user's communication experience.
Many web users are engaging in Facebook chat because of the social media opportunities that it can give. Chatwing developers observed that Facebook users often communicate with each other to achieve certain goals. These goals may be related to Facebook page promotional, game buddy search, soft marketing campaigns, advocacy campaigns, and many more.
The effects are even amplified if the web user installs the Chatwing chat box to a website or blog. Many bloggers have observed that a week of continuous Chatwing usage can provide a steady stream of traffic. Visitors can log in through Facebook and Twitter, granting an opportunity to expand social networks. The chatroom tool also has a roster of background images to choose from. If the selection doesn't appeal to the user, he can upload an image link of his choice. Bloggers have also praised Chatwing's wide customization options, starting from color choices up to admin parameters.
Since the chatbox is gathering continuous positive feedbacks and demands, the company is working hard to push for more upgrades. One of the upgrades conceptualized is overhauled efficiency—the shoutbox will be upgraded to fit the tastes of many web users in the future.
About Chatwing.com
Chatwing.com specializes in the new field of website chat. Over years, the development team has introduced live chat widget for hundreds and thousands of blogs. The application bridges people from many parts of the world, creating global synergy through the Internet. The shout box can be installed in just seconds, and it can be used for varying purposes such as leisure and Internet marketing. It also allows a user to customize the size, color, and name of the widget.