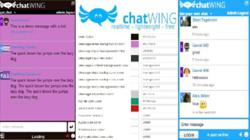 New York, NY (PRWEB) February 20, 2013
Social marketing, one of the most important activities in the Internet today, is entering a new level. This fact is based on the commentaries of many professionals and other online entrepreneurs who spearheaded social marketing campaigns. Seeing the importance of social marketing, the Chatwing Dev Team launched a chat widget that is capable of boosting any social marketing campaign twofold. This chatroom tool can be installed to blogs and websites to produce continuous traffic.
Social media marketers, especially those who have websites and blogs, can benefit from Chatwing chat box because of its communication potential. The company's developers ensure that up to thousands of visitors can communicate directly in the chatroom. This simply means that social marketers can promote their products and services efficiently without wasting time. Apart from that, visitors can also log in with their social media accounts, so marketers can take their campaigns to a new level.
Chatwing's website chat app also has reliable admin leverage. Through the chatroom's banning system, users can just click and ban members with relative ease. The admin can also determine the length of the visitor's ban time. A word filter system is also allowed and this can greatly preserve the integrity of the website and chatroom.
Chatwing.com and its team of researchers and developers are aware of the changes in many online niches. To cope with such changes, the company is planning to steamroll new innovations that can benefit thousands of web users and social marketers. These upgrades will then be announced in Chatwing's active Facebook page.
About Chatwing.com
Chatwing.com specializes in the new field of website chat. Over years, the development team has introduced live chat widget for hundreds and thousands of blogs. The application bridges people from many parts of the world, creating global synergy through the Internet. The shout box can be installed in just seconds, and it can be used for varying purposes such as leisure and Internet marketing. It also allows a user to customize the size, color, and name of the widget.