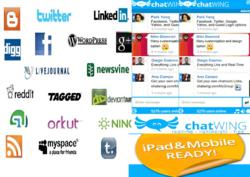 Houston, TX (PRWEB) February 21, 2013
Chatwing.com is ready to introduce a chat widget that can help social news websites gain many subscribers. Everyday, social news are happening and many people are gaining different opinions over different subject matters. Chatwing's newest chat app focuses on global connectivity between web users, and also the potential for better visibility on a regular basis.
Website owners can discuss more social news with the help of the Chatwing chatbox. The chatroom is capable enough to accommodate thousands of users daily, and it is also known for its advanced social media integration. Currently, visitors of the chatroom can log in with their Facebook, Yahoo, Google, and Twitter accounts. According to some professionals who have used the newest Chatwing tool, this can boost social media visibility by up to 80%.
Customization is grander in the newest chat box. After registering, the user can proceed to the dashboard and set up colors and sizes. Any color combination is possible, and Chatwing developers advise users to spend time in tweaking the appearance of the chatroom. Font sizes can also be changed to add flavor and style to the chatroom. There is also a background image upload option—the user can select from Chatwing's background images or choose to upload a valid image link. This is useful for another website exposure.
Most social news tends to go for controversies and changes in social networking sites. For Chatwing developers, social news can be used to build visibility in the long run. To help more web users gain information, the company is planning to launch more features that will keep the chatroom more efficient than ever.
About Chatwing.com
Chatwing.com specializes in the new field of website chat. Over years, the development team has introduced live chat widget for hundreds and thousands of blogs. The application bridges people from many parts of the world, creating global synergy through the Internet. The shout box can be installed in just seconds, and it can be used for varying purposes such as leisure and Internet marketing. It also allows a user to customize the size, color, and name of the widget.