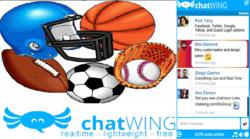 Los Angeles, CA (PRWEB) February 22, 2013
Sport niche websites can now build subscriber bases with Chatwing.com's newest and innovative chat widget. Chatwing's developers have decided to reach out to the sporting niche because of its potential growth every month. The recent chat widget offered by Chatwing can improve the connectivity rate of any website or blog. Aside from that, the chat tool also empowers social media leverage by a high percentage. Other advantages of the chat app include customization, admin functions, and flexible form factors.
Fans of the sporting niche can discuss sports-related information in the Chatwing chatbox. They can talk about the strongest and weakest teams, sporting paraphernalia, athletes, sporting controversies, the best game coaches, the best games, and even the most beautiful sporting models. Since the Chatwing app can host over thousands of visitors in one sitting, the potential for connectivity is on all-time high.
Facebook, Twitter, Google, and Yahoo login methods are also allowed. These options heightened the usability rate of the chat box, benefiting many users who want to have a new communication experience. Color selection is highly varied, giving more choices to bloggers and website owners. Sports bloggers can rely on this option and try out new design schemes that can attract visitors. Also, Chatwing has background image setup—the chat tool has dozens of background images to choose from, but the admin can also choose to upload his image link.
To make the chat platform more efficient than ever, Chatwing Team will push out more upgrades in weeks. The chat tool will also be optimized so that it can be used for other niches that have strong subscriber bases.
About Chatwing.com
Chatwing.com specializes in the new field of website chat. Over years, the development team has introduced live chat widget for hundreds and thousands of blogs. The application bridges people from many parts of the world, creating global synergy through the Internet. The shout box can be installed in just seconds, and it can be used for varying purposes such as leisure and Internet marketing. It also allows a user to customize the size, color, and name of the widget.