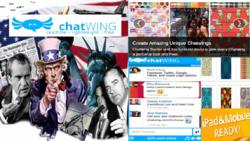 San Diego, CA (PRWEB) February 24, 2013
Everyday, many political blogs are getting a high following because the bloggers are tackling different controversial topics. Based on the research conducted by Chatwing.com, political bloggers are always looking forward to massive changes within their countries, cities, or districts. Chatwing moves into the political blogging niche by launching its newest website chat tool. The chat tool can help improve the overall visibility of any political blog, and it can also be installed quickly.
Chatwing chatbox can improve the visibility of a website because it can accommodate thousands of users and visitors. In a political website, this simply means that more discussions can begin and anyone can share his thoughts about a certain topic. With these discussions, the website will become more active—the snowball effect will occur, attracting more visitors who will then contribute to the activity of the website.
Social media is also an important part of the chat widget. With this integrated feature, web users can log in with their Facebook accounts. Now, the political blogger or website owner can find more topics with the help of social media. Moreover, he can expand his social network in just days of continuous usage.
Political blogging is a niche that is always undergoing certain growth. Chatwing.com extends its undying support to political blogs by creating more chat box upgrades and innovations. Every now and then, Chatwing developers will also offer tips to these active bloggers and website owners.
About Chatwing.com
Chatwing.com specializes in the new field of website chat. Over years, the development team has introduced live chat widget for hundreds and thousands of blogs. The application bridges people from many parts of the world, creating global synergy through the Internet. The shout box can be installed in just seconds, and it can be used for varying purposes such as leisure and Internet marketing. It also allows a user to customize the size, color, and name of the widget.