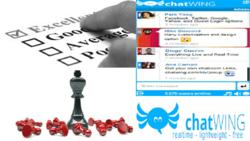 Chicago, IL (PRWEB) February 25, 2013
Having a product review site or blog is one of the common ways on how to gain online income. This is according to many bloggers and website owners surveyed by the researchers of Chatwing.com. The main purpose of the research is to determine the rate of chat application demand in many online circles. The company also launched a new chat widget meant to provide strong traffic and connectivity for product websites and blogs.
Chatwing chatbox can help product reviewers find more information because of the tool's thousand-user capacity. The developers have stated that the visibility provided by the Chatwing app can reach up to 80%, depending on peak times and the marketing effort of the website owner or blogger. Visitors can also suggest many products, such as novelty items, gadgets, clothing, and many more. Social media integration also enhances the way website owners connect with many people. With this feature, Facebook and Twitter users can log in easily.
Months ago, the Chatwing Team has expanded to different online niches like tech tutorials, finance, and donation sites. The effectiveness of the chat box was attested by many bloggers who have tried it out. These bloggers have also sent some suggestions which were used by the Chatwing.com as templates for new upgrades.
Chatwing.com will also focus on reaching out to application reviewers and investment critic sites as well. To spearhead this expansion, the company's developers will create new innovations for the chat platform. These innovations will then be announced in the company's Facebook page.
About Chatwing.com
Chatwing.com specializes in the new field of website chat. Over years, the development team has introduced live chat widget for hundreds and thousands of blogs. The application bridges people from many parts of the world, creating global synergy through the Internet. The shout box can be installed in just seconds, and it can be used for varying purposes such as leisure and Internet marketing. It also allows a user to customize the size, color, and name of the widget.