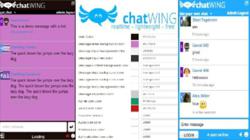 Boston, MA (PRWEB) February 26, 2013
To help website owners gain proper visibility and exposure, the Chatwing Company steadily launched a new chat widget with reliable online features. These features included social media integration, speedy installation process, grand customization leverage, and effective admin setups. The chat platform is built to handle hours of conversations from many visitors at any day.
With social media setup, visitors of the chat box can log in through Facebook, Twitter, Google, and Yahoo. Facebook marketers and page makers can rely on this accessibility when it comes to their global marketing efforts. Apparently, serious Facebook gamers can also use this to find more game neighbors regularly. Twitter users, especially those who are looking for trends, can start finding new friends and information. Google and Yahoo users can also find new email contacts easily.
The installation process of the chatbox can be accomplished in just seconds, depending on the user's customization choices. Once registered, the user can access the dashboard. There, he can set the colors, sizes, font styles, parameters, allowed login methods, background images, and MP3 links.
Chatwing's website chat tool also has three form factors or styles to choose from. The first form is the actual shoutbox. Following that is the pop-up window. The latest is the vanity URL, wherein people can make their own usernames and send them to their friends for private group chats. The company's developers are currently brainstorming about new form factors and innovations that can contribute to the overall betterment of the chat platform.
About Chatwing.com
Chatwing.com specializes in the new field of website chat. Over years, the development team has introduced live chat widget for hundreds and thousands of blogs. The application bridges people from many parts of the world, creating global synergy through the Internet. The shout box can be installed in just seconds, and it can be used for varying purposes such as leisure and Internet marketing. It also allows a user to customize the size, color, and name of the widget.