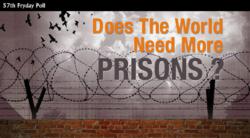 Are the incarceration rates high because prison labor is cheap for corporates?
San Jose, CA (PRWEB) February 18, 2013
On Friday, MapsofWorld.com, the leading content and mapping portal, launched a new infographic poll – Does The World Need More Prisons?
The researchers at MapsofWorld.com have put together a comprehensive research document with facts and stats from various parts of the world. The infographic explores the history of prisons and moves on to the prison population in different countries. Combining maps and stats, the infographic is a perfect research data pool. After looking at the top 10 countries by prison population,world map of prison populations, the infographic focuses on US prisons.
The US is the top country in the world going by prison population. The infographic explores the increase in prison spends and the controversy surrounding the Guantanamo Bay Detention Camp. The folks at MapsofWorld.com have included a number of insightful graphs and tables to compare the incarceration and crime rates in the country. They also touch upon a controversial topic of the prison industry. Are the incarceration rates high because prison labor is cheap for corporates? The infographic then moves on to some of the deadliest prisons in the world and concludes with famous quotes about imprisonment and liberty.
Mapsofworld.com is one of the world's largest mapping and content portals and has been an important research aid since 2003. The site has over 25 million map downloads to its credit and has drawn over 66 million visitors till date. Since 2011, MapsofWorld has introduced a series of infographics about topics of global or social concern.
About the company:
MapsofWorld.com is a multilingual portal offering high-quality maps and information across geographies and platforms. With special focus on educational content, the portal has thematic as well as interactive maps on all major platforms: Web, iPhone, iPad, iPod, and Android. World Atlas and World Quiz are two highly successful educational apps have been downloaded. Other services offered are custom mapping, content digitization, and the online map store.
For more information, please contact:
social(at)mapsofworld(dot)com
MapXL Inc.
10 S. Third Street, Suite 310,
San Jose, CA 95113