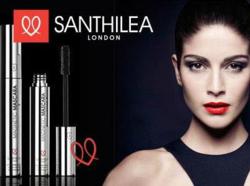 Set to change women's make-up routines, the lengthening mascara has an innovative two-tube 1-2-1 Lash Extension System that extends and thickens for high impact, glamorous lashes
London, England (PRWEB) February 15, 2013
Brand Outreach the brand management specialists recently announced a partnership with leading cosmetics company Santhilea London in order to gain exposure for their Magnetic Lash Mascara range.
Brand Outreach commented:
"Santhilea London the dynamic creators of Magnetic Lash Mascara launched their revolutionary Magnetic Mascara £24.99 on Wednesday 12th December. Set to change women's make-up routines, the lengthening mascara has an innovative two-tube 1-2-1 Lash Extension System that extends and thickens for high impact, glamorous lashes."
Santhilea London understands that women want to look glamorous and need easy beauty solutions to go with their busy work schedules. Which is why after three and half years of research, they created a mascara that gives a glamorous false lash effect. No need for fiddly false lashes or damaging extensions, Magnetic Lash (£24.99) works like an ordinary mascara. Quick-to-apply and easy to use, the two tube 1-2-1 Lash Extension System gives immediate, long lasting results. Some of the products features include:

Contains luxurious Hyaluronic Acid and Vitamin E to keep delicate lashes in perfect condition
Has blue and violet pigment to give lashes a beautiful and intense 'black velvet' sheen
Has a natural plant wax formula, which unlike oil-based mascaras, removes in half the time
Ideal for women with either short or straight lashes
Provides immediate and long lasting results. The curl will hold all day
Feels light and comfortable
Never looks fake, so appropriate for all ages, styles, and occasions
It actually works. As such, Santhilea never digitally enhance their photography
Maker Santhilea Yung says: "As a professional woman working in Financial Services, I was always expected to look glamorous every day and needed easy beauty solutions to go with my busy work schedule. Like most women, I'm 'average' at putting on make-up and relied on expensive and time-consuming lash extension treatments that were often damaging on my lashes and didn't last very long. After three years researching an alternative, we have now launched Magnetic Lash, a product that has stopped my personal struggle for perfect long lashes. This product has real WOW factor, something we are committed to including in all our upcoming products, so we can promote achievable beauty and life enhancing confidence."
Santhilea are also keen to point out to the media
1. The Magnetic Mascara and Lash Builder are designed to work together
2. The sleek, metallic packaging for the separate mascara and lash builder each have a special seal to keep mascara fresher for longer
3. Safe for contact lens wearers and those who pursue an active lifestyle
4. Magnetic Lash is applied using a simple 1-2-1 formula
About Santhilea London: Santhilea London has created a collection of authentic beauty products that are life proof and love proof, beginning with the launch of the Magnetic Lash system. Magnetic Lash is the closest thing you can get to achieving a false lash effect that can be built up depending on whether you are going out to work or play. At the same time it is conditioning, long lasting and easy to use. To find out more, please visit: http://www.santhilea.com
About Brand Outreach: Brand Outreach is a brand management business that boasts clients across the globe. Brand Outreach specialize in promoting and defending online reputations. They use traditional media channels as well as Social Media to grow brands and interact with customers target markets.