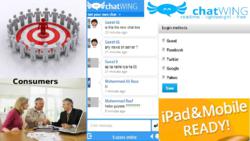 Chicago, IL (PRWEB) February 27, 2013
Since consumer relations is an important factor that cannot be missed out in creating businesses, Chatwing.com and its brilliant team decided to focus on this area. The company's developers worked hard in order to create a website chat platform dedicated to the area of consumer relations. This new chat app has improved speed, latency, and user capacity. Aside from that, there are also new login options, benefiting thousands of visitors and clients all over the Internet.
Chatwing.com's newest chat box offers cutting edge performance in speed, even though many visitors are having discussions at any given time. This is because of the chat platform's thousand-user capacity and complex programming system. Banking on speed and efficiency, the tool can improve the rate of consumer relations once it is installed in blogs or websites. According to the developers, the traffic rate can improve a website's exposure rate by more than 60%. Chatwing app also allows Facebook and Twitter login. Recently, the company added Google and Yahoo login options.
Chatwing chatbox can also be modified greatly, starting from colors up to accessibility rate. Meticulous website owners can pick from dozens of color combinations and sizes. Common colors picked are blue, red, orange, and green. There are also default background images to choose from. The user can choose to upload a background image link of his choice. This is the main reason why the chatroom app fits any natural branding process.
The Chatwing Team is always looking forward to give a high calibre of communication advantage to users. This advantage begins with a reliable chat application that will have many effective features in the coming weeks and months.
About Chatwing.com
Chatwing.com specializes in the new field of website chat. Over years, the development team has introduced live chat widget for hundreds and thousands of blogs. The application bridges people from many parts of the world, creating global synergy through the Internet. The shout box can be installed in just seconds, and it can be used for varying purposes such as leisure and Internet marketing. It also allows a user to customize the size, color, and name of the widget.