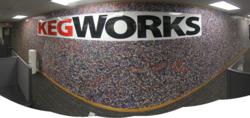 Buffalo, NY (PRWEB) February 15, 2013
Beer-centric online retailer KegWorks covered 459 square feet of empty wall space with nothing but bottle caps. 60,000 bottle caps in all - each sent in by a customer, friend, or brewery.
The small company used their blog and social media accounts to alert their customers and fans of the big idea, and ask for their help collecting caps. Once the caps were in, magnetic sheeting was attached to the wall, and 43 employees began the tedious task of putting all 60,000 caps up one-by-one. The project took two months to complete.
To see photos, watch a time-lapse video created with more than 10,000 still photos, and find out more about the cap wall, visit KegWorks.com/caps
About KegWorks:
KegWorks is a leading online retailer of home and professional draft beer equipment, bartending tools, premium cocktail ingredients and novelty items, as well as high quality commercial restaurant and bar supplies and equipment. Launched in 1998, KegWorks is privately owned and the recipient of a 2012 Business First Fast Track 50 Award for being one of the fastest growing companies in Western New York.
###