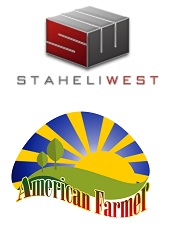 Cedar City, UT (PRWEB) February 18, 2013
Staheli West Inc., a family owned and operated manufacturing company, announced today they will be featured in an upcoming episode of American Farmer.
Staheli West, Inc. developed the revolutionary DewPoint hay baling technology. They produce and market the DewPoint 6110 across the U.S. and are preparing for distribution in other areas of the world where this unique process is needed. With this machine, hay farmers normalize their lives, by overcoming the limits of nature with the ability to create optimum baling moisture conditions through a wide variety of ambient conditions.
In this episode of American Farmer, viewers will learn how this patented "DewPoint" technology enables Commercial Hay Growers to bale hay anytime the crop is sufficiently dry, without the need to wait for natural dew. In addition, American Farmer will educate the agricultural community about the Staheli family values upon which their company is built, with the belief that faith, freedom, and families are the foundation of any enduring society.
"What we do at Staheli West, Inc. is not the most important thing in the world, but it helps many people in the world to have more time and means to dedicate to the things that do matter most," said company founder Dave Staheli. "We are not here just to build and sell machines to people, but to help our customers increase productivity, raise product quality, reduce capital expenses, increase their profits, and improve their quality of life. We also enjoy helping our employees continually increase their knowledge, skills, and abilities which builds greater prosperity for them, for our customers, for our suppliers, and for us."
Staheli continued, "we are excited to be chosen to participate in the American Farmer series. We will share our passion for finding simple solutions to common problems in our industry, our enthusiasm for life, and we hope to inspire others to magnify their own talents and tenacity to improve things in their own scope of influence."
"The DewPoint 6110 system is revolutionizing agriculture's forage industry," said Charles Cowan, producer for American Farmer. "By allowing farmers to create ideal baling moisture levels without waiting for nature to play a part, farmers can be more efficient, giving them more time to spend with their families."
About Staheli West:
Staheli West, Inc. was organized in 1995 by Dave Staheli and his wife Shelly, to accommodate development activities for various agricultural processes. Much of their activity included consultation services to other agricultural manufacturing companies. In 2007 Dave and Shelly moved forward into market intent development of the DewPoint technology which Dave had conceived and been using in a hay farming operation in Cedar City, Utah for several years. Since our release of the DewPoint 6110 we have experienced steady growth, steep and interesting learning curves, real satisfaction in the contributions we are making to the forage industry we love, and continual gratitude for the inspiration which carries us forward and for the people who are making it all happen.
For more information, visit: http://www.staheliwest.com or call 435-586-8002.
About American Farmer:
American Farmer is a breakthrough program on a mission to showcase the latest advancements in agriculture and farming. From seed to harvest, livestock and more, our producers have traveled the country covering the people, places and issues impacting all areas of farm country.
For more information visit: http://www.americanfarmertv.com or call (866) 496-4065.
Media Contact:
Charlie Cowan, Producer
American Farmer
(866) 496-4065 x 875
charlie (at) americanfarmertv (dot) com