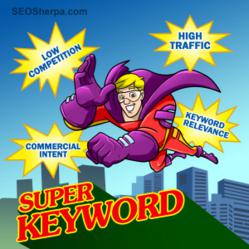 There is nothing worse than spending a lot...only to find out...no one is actually searching for them.
Dubai, United Arab Emirates (PRWEB) February 20, 2013
James Reynolds of SEO Sherpa mentioned four key pillars in attaining search engine ascendancy in the shortest time possible, with the least possible expense, and, at the most profitable margin for website owners and administrators with this very timely, albeit, aging topic that most online merchants would usually take forgranted.
Responding to most websites that continuously falter in their online marketing and website rankings, Reynolds listed these following cornerstones to successful online presence to fine tune any website in progressing rapidly up the rank in search engines such as Google, Yahoo and Bing and they are as follows:
--> High Traffic- Marketing on the internet requires good tracking of visitors and keyword matching to websites to attract immediate conversion;
--> Low Competition - Keywords should have the least competitors in the search engine arena. Nothing can be more discouraging than being knocked off by another website that employs good keywords that are more unique. "This would arouse the curiosity of the visitors and, most likely, would result in bringing traffic to the site," Reynolds added;
--> High Commercial Value - Keywords should be tied to the product or service that they are selling. For example, if a website sells insurance policy, it should use keywords like life insurance or pre-need insurance rather than the ubiquitous term, insurance. The former would have a higher worth and thus would attract more traffic compared to the latter; and,
--> Keyword Relevance - Keywords should have relevance to the website it links up with. No visitor would drop in again if, after making a search and finding a link, the website presented a content that was entirely different from what was originally searched for. As an example, a search for "A Hard Day's Night" by the Beatles should not result in "A Hard Days' Night" by the Beauties.
Reynolds re-echoed that a professional SEO (search engine optimization) service provider may be needed in order for a website to achieve these. "An expert in SEO will be responsible for filtering out bad keyword placements and in instituting better management of the website's search rankings," he said.
Proper keyword placements resulting in better search results was also highlighted by Reynolds in improving website traffic as well. "A website having good keyword structure would be always assured of high traffic and rapid conversion," he concluded.
Despite these strategies being traded off as old-fashioned and obsolete, no website could ever achieve online success if the keywords used could not even meet the standards for generating sales conversion and search engine visibility. These strategies strengthen a website's viability, profitability, dominance, and, most importantly, longevity in the long haul.
About James Reynolds
James Reynolds has earned great respect in the field and is an experienced internet marketing speaker appearing at events worldwide and often in the media in Dubai, where he resides. Reynolds is also the founder of Search Engine Optimisation agency, SEO Sherpa, and Google Adwords Pay-Per-Click management company, Click Jam. He is an expert in helping entrepreneurs drive sales and increase the overall responsiveness and profitability of their online marketing.
###