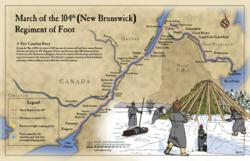 Event organisers are seeking a few brave journalists to be embedded in the march.

Kingston, Ontario (PRWEB) February 16, 2013
The winter of 1813 was one of extreme cold and heavy snows. Between February and April, New Brunswick's 104th Regiment of Foot marched more than 1100 kilometres from Fredericton, New Brunswick to Kingston, Ontario to reinforce British troops and thwart an expected invasion by the Americans.
This effort by a regiment of poorly clothed, frostbitten and hungry soldiers stands as an incredible feat in Canadian military history.
To commemorate the bicentennial of their achievement, three organisations have been coordinating regional support to recreate the arduous march across Eastern Canada from February to April 2013.
The march begins in Fredericton on February 16 with a mustering in Officers' Square at the Garrison District National Historic Site.
Led by The St. John River Society, the march will continue through New Brunswick to Cabano, Québec, with a hand over on Sunday, March 10, at the Fort Ingall Historic Site.
Participation in the New Brunswick-Québec hand over will include representation from the 1st Battalion, The Royal New Brunswick Regiment (Carleton and York), which perpetuates the 104th Regiment of Foot and Les Fusiliers du Saint-Laurent.
From Cabano, the march will make its way across Québec with participation from at least eight modern regiments with coordination by Le musée des Voltigeurs de Québec. A special commemorative ceremony will be held in Québec City on March 15. A handoff ceremony between the Voltigeurs and Montréal-area military units with at least two bands will take place on March 23 at the Stewart Museum located in the historic fort on Île Ste-Hélène.
The handover between Québec and Ontario will take place in the morning on April 6, 2013 at the Ontario Travel Information Centre in Bainsville. Modern regiments represented at the Québec-Ontario handover will include the Black Watch (Royal Highland Regiment) of Canada, the 4th Battalion of the Royal 22e Régiment, and the Stormont, Dundas and Glengarry Highlanders.
Continuing across south-eastern Ontario to Kingston, St. Lawrence War of 1812 Bicentennial Alliance is actively coordinating efforts. The march will conclude with a commemorative ceremony in Kingston in the afternoon on April 12. Representation from all three provinces is expected.
Event organisers are seeking a few brave journalists to be embedded in the march.
Contact info(at)celebrate1812(dot)ca or visit http://www.celebrate1812.ca/104thMarch for more information.