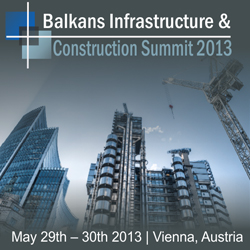 Vienna, Austria (PRWEB UK) 18 February 2013
Renowned organiser of high-profile summits around the world, International Research Networks, is pleased to announce the launch of The Balkans Infrastructure & Construction Summit, which takes place from 29-30 May 2013 in Vienna.
Balkans Infrastructure & Construction 2013 is a high-profile forum that aims to support the expansion of foreign investment in the region by addressing the opportunities, strategies and challenges around upcoming infrastructure projects. The comprehensive two day agenda will address the latest transportation projects, energy ventures and housing programmes.
BIC 2013 will provide numerous opportunities to fully understand where you can invest and how to see a return on your investment capital within the region. Topics of discussion will include national infrastructure plans within the Balkans, assessing the legal framework for investing in the region and the latest infrastructure project developments.
Speakers at the BIC Summit include;

Damir Hadžić, Minister of Communications and Transport, Bosnia & Herzegovina
Kujtim Hashorva, Ministry of Public Works and Transport, Albania
Mile Janakieski, Minister of Transport and Communications, Republic of Macedonia
Andreas Beikos , Head Representative Office Western Balkans Serbia, EIB
Christos Gofas, Team Leader Infrastructure & International Financing Institutions DG
Enlargement, European Commission
Andy Carter, Specialist Advisor, EPEC - European Bank for Reconstruction and Development
European Bank for Reconstruction and Development
...as well as Ministers and government bodies from Croatia, Serbia and Montenegro.
Major regional infrastructure companies, European institutions, banks and international investors, will also highlight the latest tender opportunities during the two day summit.
For enquiries, please contact: Jessica Jonah at jessicaj(at)irn-international(dot)com or call +44(0)2071111615