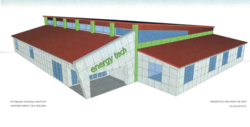 Pittsburgh, PA (PRWEB) February 19, 2013
As Pittsburgh Technical Institute begins construction on The PTI Energy Technology Center, the college will host a public groundbreaking ceremony on Tuesday, February 26, to present information about the new facility located on the southeast corner of PTI's campus in North Fayette.
PTI is investing in a 15,392-square-foot steel structure to serve as headquarters for new programs in Welding Technology, HVAC Technology, and Oil & Gas Electronics. PTI President Greg DeFeo will share information about the college's new offerings, including the announcement of a new degree in Oil & Gas Electronics.
"Research suggests a high demand in Western Pennsylvania for electronics professionals at compressor stations, at energy facilities, and on pipeline projects who have the skills to monitor the extraction, storage and transmission of this natural resource," said DeFeo.
PTI is enrolling now for the Oil & Gas Electronics program set to begin in July 2013 and the Welding Technology program which begins in October 2013. Student interest and employer reaction to PTI's new programs has been strong. Student enrollment is building faster than anticipated and the college's Career Services Department has been receiving requests from employers for both interns and graduates
The Energy Technology Center at PTI is scheduled for completion in time for fall 2013 classes and has been designed by Felix A. Cardella, III, of TKA Architects. The general contractor for the $3.5 million project is Franjo Construction. Labs designed to support Welding and HVAC programs include high-bay spaces averaging 24 feet in height. PTI's Energy Technology Center will include general classrooms, faculty offices, meeting rooms, a two-story plaza lobby, a walkway linking the building to the campus' main building and student apartments, and a rain garden located on the building's west side.
The facility will feature three distinct labs with nearly $1 million of state-of-the-industry equipment designed for hands-on learning in Welding, HVAC, and electronic equipment specific to the oil and gas industry.
The project is made possible in part by a $750,000 grant from the Commonwealth of Pennsylvania Redevelopment Assistance Capital Program (RACP) designed for the acquisition and construction of regional economic, cultural, civic and historical improvement projects.
"PTI has been part of our region's industrial history for more than 60 years," said Bill Flanagan, Vice President of the Allegheny Conference on Community Development. "Investing in its new programs and the Energy Tech Center, PTI becomes centrally aligned to the high-demand jobs in all seven energy sectors for the future of Western Pennsylvania."
The Allegheny Conference recently published a Workforce Analysis Report examining the future of energy sector jobs in Greater Pittsburgh including coal, gas, nuclear, solar, wind, transmission and distribution, and intelligent building technologies. To reference:
http://alleghenyconference.org/PDFs/Misc/WorkforceAnalysisReport083012.pdf
Interviews before and immediately following the February 26 groundbreaking ceremony available by request: Contact Carrie Butler at 412-897-6177.
PTI Energy Tech Center: Project quick facts
Location: 1111 McKee Road, Oakdale, PA 15071, Southeast Corner of North Fayette Campus
Square Footage: 15,392
Estimated Project Investment: $3.5 million
General Contractor: Franjo Construction, Corp. of Pittsburgh, PA
http://www.franjoconstruction.com
Architect: Tasso Katselas Associates, Inc. (TKA) of Pittsburgh, PA
http://www.tkainc.com
Building Features: high-bay spaces averaging 24 feet in height, general classrooms, faculty offices, meeting rooms, a two-story plaza lobby, a walkway linking the building to the campus' main building and student apartments, and a rain garden located on the building's west side.
Estimated student enrollment for new programs:
PTI estimates 200 new students in Welding Technology and Oil and Gas Electronics in 2013.
PTI has nearly 2000 students. Graduates in programs from Information Technology, Computer Aided Drafting, and Criminal Justice possess the transferable skills to find employment opportunities in the oil and gas industry.
About Pittsburgh Technical Institute
Offering career-focused education since 1946, Pittsburgh Technical Institute is a two-year college with a 180-acre campus in North Fayette, west of Pittsburgh.
PTI offers degree and certificate programs in areas such as, Business, Criminal Justice, Hospitality and Culinary Arts, Design, Healthcare, Nursing, Information Technology, Trades Technology, and Energy and Electronics Technology.
PTI students can take advantage of online course offerings, on-campus residence halls, student activities, intramural programs and community service programs.
PTI is accredited by the Middle States Commission on Higher Education.
PTI was recognized by its employees as one of the region's Top Places to Work in a 2012 study commissioned by The Pittsburgh Post-Gazette and is designated a Military Friendly School for the third consecutive year.