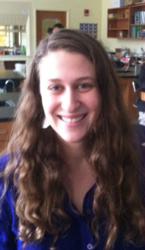 It has been a pleasure to teach them, watch them grow, and also grow with them over the past few years
(PRWEB) February 15, 2013
The National Science Teachers Association (NSTA) announced this past December that 234 middle and secondary science teachers from across the country who will take part as Fellows in the 2012-2013 NSTA New Science Teacher Academy. The NSTA is the largest professional organization in the world promoting excellence and innovation in science teaching and learning for all.
Boston Cathedral High School is proud to announce that biology teacher Ms. Aliza Zenilman was selected for this prestigious fellowship program from hundreds of applications nationwide. Ms. Zenilman and the other Fellows will participate in a year-long professional development program designed to help promote quality science teaching, enhance teacher confidence and classroom excellence, and improve teacher content knowledge. Ms. Zenilman is "excited and honored to be part of this fellowship."
Zenilman is in her third year at Cathedral and her favorite part of teaching there is the students. "It has been a pleasure to teach them, watch them grow, and also grow with them over the past few years," said Ms. Zenilman. The 2012-2013 Fellows were selected on the basis of several criteria, including showing evidence of a solid science background and displaying a strong interest in growing as a professional science educator.
Each Fellow will receive a comprehensive NSTA membership package, online mentoring with trained mentors who teach in the same discipline, and the opportunity to participate in a variety of web-based professional development activities, including web seminars. "Already, I have learned so much through the fellowship and have been able to implement some of that learning in my science classes," Zenilman remarked.
Additionally, each Fellow will receive financial support to attend and participate in NSTA's 2013 National Conference on Science Education in San Antonio. The fellowship program is sponsored by six U.S.-based companies and represents 34 states and the District of Columbia. The Dow Chemical Company is the primary sponsor of the program along with American Honda Foundation, Amgen Foundation, Astellas Pharma, Bayer USA Foundation, and Lockheed Martin. "The New Teacher Academy definitely pushes and motivates me to be a better, more rigorous and more engaging science teacher," added Ms. Zenilman.