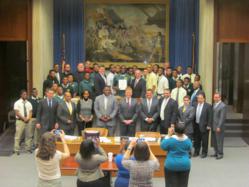 Panther Pride!
Boston (PRWEB) February 16, 2013
The accolades continued for the Cathedral High School football team. On Wednesday, January 16, the team was honored by the Boston City Council in recognition of the school's first State Super Bowl. The team was invited by Council Member John R. Connolly. The players were treated to lunch at a conference room and met with several City Council Members before entering the Chambers of the Boston City Council.
The visit was a learning experience for the players as well. They witnessed all the formalities and procedures the City Council performs during a session. Senior linebacker and team captain Sean Elad delivered a rousing address to the Council discussing the team's hard work and commitment after the outcome of last year's Super Bowl. The team ended their time in the City Council by getting one last huddle and break for the city's newest champions. Click to watch the last huddle and break here.