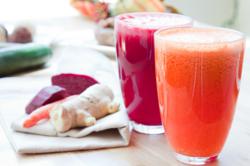 I am amazed at how much energy I have by just eating more nutrient rich foods every day! I keep getting compliments on how I look and how people just feel the difference in my energy!
Philadelphia, PA (PRWEB) February 28, 2013
In March, The 7 Day Raw Foods Cleanse™, an online global raw foods cleanse program that guides people on how to cleanse and detox the mind, body, and spirit on a 100% raw foods diet, will be guiding thousands of women from around the world on a detox and weight loss journey. March is the beginning of spring and the perfect time to cleanse and start a weight loss journey. Each day is customized to guide the mind, body, and the spirit on a detox journey through its seven cleansing principles created by Nwenna Kai, raw foods detox expert, author, and award-winning wellness entrepreneur out of over 15 years of detoxing, cleansing, and healing her own mind, body, and spirit.
The program is a way to become familiar to what a balanced raw foods diet can look like and how to integrate it into your life.
People participate from as far away as Iceland and Guam and experience healthy weight loss up to 14 pounds in seven days.
Included in the program are the following:

A Toxin Assessment
Mouth-Watering Recipes
Detox Cocktail Concoctions
Seven Daily Motivational Emails
The Seven Cleansing Principles
Seven Daily Motivational Coaching Calls
Email and Online Support
A Bonus Prep Pre-Detox Course
Optional Buddy System
The 7 Day Raw Foods Cleanse ™ is more than just a cleanse; it is a program to shift your paradigms around food that makes all the difference when it comes to changing your life.
Nwenna Kai is the founder of The LiveWell Movement, a multi-media health and wellness company that provides total wellness solutions. She is a raw foods and vegan nutrition expert and has been seen on NBC's The Ten Show, E-Entertainment's True Hollywood Stories about Diet Fads, and The Travel Channel's Taste of America. She was the founder and the owner of Taste of the Goddess Cafe, one of Los Angeles's pioneering organic raw vegan restaurant and she is the author of the book, The Goddess of Raw Foods. She resides in the Chestnut Hill section of Philadelphia and enjoys hot yoga, hiking, family, and a sound and balanced plant-based diet.