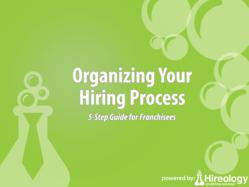 From keeping track of applications to evaluating interviews, we're often asked how to avoid these problems. This eBook answers just that - and explains how to avoid similar hiring situations in the future. -- Margot Nash, Director of Product Development
Chicago, IL (PRWEB) February 15, 2013
Leading selection management platform, Hireology, released an eBook earlier this week outlining five practices companies can implement to organize their hiring process. The guide, available for free download here, is applicable to any company with hiring challenges, regardless of industry.
The eBook, "Organizing Your Hiring Process," delves into the five most common challenges companies face while hiring. After analyzing the top complaints from companies hiring in the fourth quarter of 2012, Hireology developed a list to remedy the most common issues experienced.
"The complaints we most often hear from hiring managers are all related to organization," said Margot Nash, Director of Product Development. "From keeping track of applications to evaluating interviews, we're often asked how to avoid these problems. This eBook answers just that - and explains how to avoid similar hiring situations in the future."
This is the third eBook Hireology has released in 2013. All pertaining to hiring needs and challenges, each eBook is available on Hireology's website and is free to download. Hireology also posts six new blogs each week, all of which address various aspects of hiring.
About Hireology
Hireology's award-winning Selection Management System helps companies organize their hiring process and leverage data to make better hiring decisions. Franchise systems, banks and financial institutions, healthcare systems, dealer networks, and other multi-site operators use Hireology's web-based Selection Manager™ to deliver consistent and repeatable hiring decisions in the field - leading to better hiring decisions, lower turnover, and increased profitability per location. For more information, please visit http://www.Hireology.com.