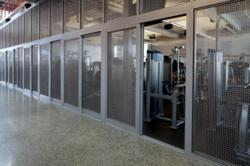 The area needed to be secured, yet have an open and connected feeling to the lobby space outside.
Cambridge, MD (PRWEB) February 15, 2013
The Everett Community College's award-winning Student Fitness Center in Everett, WA which achieved LEED Gold Certification for its modern, eco- and user-friendly design, uses a Cambridge Architectural mesh system as space sculpting wall panels used to define the weight rooms.
The installation of Infinity mesh, encased with a U-Binding, was designed by architect SRG Partnership, Inc. The mesh walls complement the design intent by matching the open, airy concept that defines the Fitness Center. The interior has earned awards from International Interior Design Association (IIDA) and the project was honored at the Portland design awards ceremony for the American Institute of Architects (AIA).
"The area needed to be secured, yet have an open and connected feeling to the lobby space outside," says Stan Jaworowski, Senior Associate and LEED AP with SRG Partnership, Inc. "Visibility, audibility, and ventilation were all requirements of the wall system; the mesh was a very attractive part of the solution.
"In addition to securing the space," Jaworowski continues, "a natural ventilation scheme required air movement from the weight room's windows through the room and into the double-high lobby space."
The mesh walls, contracted by Project Manager Panattoni Construction, Inc. out of Seattle, WA, and installed by Allied Steel, provided the durability, lightness, and permeability that the design team desired in the final interior.
"The design team had a great deal of interest in promoting a sense of connection between activities and spaces, including being able to hear goings-on throughout the building," Joworowski says. "Mesh offered an attractive product that was consistent with these goals."
Professional photography of the mesh system and a case study are now available online at http://bit.ly/12KsjkC.
# # #
About Cambridge Architectural
From concept to installation, Cambridge Architectural is the only full-service provider that sees a design through to ribbon-cutting. As the world leader in tensioned mesh systems, Cambridge Architectural gives each project a distinctive quality for both interior and exterior applications, extending an unparalleled transformational aesthetic while maintaining functionality. Cambridge offers a full range of sustainable metal mesh solutions, providing full system design, engineering, and installation services, in the most challenging building environments and under the strictest budgets. Visit http://www.CambridgeArchitectural.com to experience Cambridge's abilities.