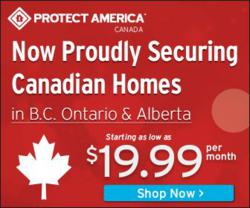 Everyone wants to feel safe in their homes and Protect America is proud to help Canadians do just that.
Austin, Texas (PRWEB) February 15, 2013
The new campaign marks the first time Protect America has entered the Canadian market. The company is celebrating the occasion by offering free equipment and home security monitoring starting as low as $19.99 per month. Simply order a monitoring solution and receive a free wireless home security system made by GE. Protect America offers a wide range of monitoring solutions, including landline and broadband. Customers that choose the broadband monitoring option also receive free interactive access that controls security systems from Internet-enabled computers or smartphones.
"We've been interested in expanding to Canada for some time now," said Scott Fleming, Protect America's chief operating officer. "As a company, we're thankful for the opportunity to provide our products to the Canadian market. Everyone wants to feel safe in their homes and Protect America is proud to help Canadians do just that."
Along with burglary protection, Protect America also offers monitoring for carbon monoxide, fire, flooding, and cold temperatures. Interested customers can also get interactive video surveillance that can be accessed from secure portals, like your smartphone. Protect America also has GPS vehicle tracking that can monitor location and speed of most modern automobiles.
"We believe home security should be accessible and easy to use," Fleming added. "As the leader in wireless home security, Protect America is proud to offer Canada a new and better solution when it comes to home security."
Wireless home alarm systems can be a better alternative to traditional home security options. Many home security providers charge their customers for installation and activation. Protect America forgets the activation fee and provides support for installation at no cost. Each Protect America security system comes with a Lifetime Replacement Parts warranty and choice of landline or broadband monitoring.
Visit http://www.protectamericasecurity.ca for more information.
About Protect America, Inc.
Founded in 1992, Protect America, Inc. is based in Austin, Texas and employs approximately 300 people. A pioneer of the self-install wireless home alarm system, Protect America is part of the same family of companies that includes Quicken Loans and the Cleveland Cavaliers. For each of the past 6 years, Protect America has been named the number one home security company in the U.S. by Top Consumer Reviews. Protect America is dedicated to providing reliable and affordable home security that's within the reach of any household budget.