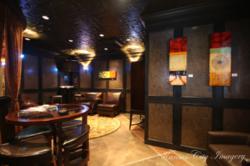 "The Master Groomer program will consistently allow for our best professionals to serve the sector of clients that find value in receiving services from only the top 10% in the men's grooming industry," says CEO & owner Ben Davis.
(PRWEB) February 15, 2013
The Gents Place recognizes that members and clients have a hectic, demanding and constantly changing schedule. In order to better meet these needs, The Gents Place has developed an internal method to improve this. Some of the qualifications that must be met to achieve "master groomer" status include high request rates, demonstrated product knowledge, performing 2000+ premium services at The Gents Place, a minimum number of years in the industry, grooming methods perfected and tested, and consistent client and team feedback reports.
Once a promotion to a "Master Groomer" is made, clients can choose to experience services by the most skilled professionals in industry The Master Groomer Program gives The Gents Place grooming professionals the ability to grow their business without the nightmare of "owning their own business". However, even more importantly, the program allows client's consistent access to the very best grooming professionals available in the men's grooming industry. To learn more about The Gents Place or to find the club nearest you, visit http://www.thegentsplace.com.
About The Gents Place
Founded in 2008 by Ben Davis, a frustrated guy who hated getting his haircut, The Gents Place offers men's grooming and lifestyle products and services in a masculine, yet relaxed country club type environment. They offer men's hair services, hand and foot repairs, straight razor shaves, massages, shoe shines and more. Frequently referred to as America's Premier Men's Grooming and Lifestyle Club with locations in Texas (Dallas, Frisco) and Kansas (Leawood), The Gents Place is known for its commitment to client service and top shelf amenities.