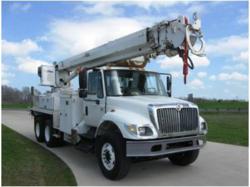 Nationwide Delivery
Colona, IL (PRWEB) February 15, 2013
I-80 Equipment of Colona, IL has broken ground on a new state-of-the-art facility and is scheduled to be completed this spring. The location will be convenient for customers and provide a modern showroom for showcasing the reconditioned equipment. The facility will be located directly on I-80, just minutes away from the Moline International Airport.
The new facility includes 18 separate bays, providing ample space for the reconditioning and care of the name brand equipment that I-80 Equipment offers. I-80 Equipment will continue to recondition service trucks to the like-new conditions that set them apart from competitors. A new showroom will also be built for showcasing the finished vehicles. All pictures and videos will be captured in this modern facility providing customers with up close and life-like images of each piece of machinery. I-80 Equipment will be the only bucket truck dealer in the country to offer this incredible service.
The facility will be outfitted with a 60'x40' LED billboard that will be visible from the interstate, making it easier for customers both new and returning to find the location. The increased interstate presence will attract local businesses and new customers, and help I-80 Equipment to expand their influence as they continue to lead in the industry of reconditioned bucket trucks.
I-80 Equipment has been providing the highest quality service since 1992 and continues to look to the future. This new facility will give I-80 Equipment an increased platform for providing quality products and service to the expanding customer base.
I-80 equipment
120 Walnut Ln
Colona, IL 61241
(Toll-Free) 888.949.3701
(Local) 309.949.3701
(Fax) 309.949.3760
(Email) info(at)i80equipment(dot)com
http://www.i80equipment.com