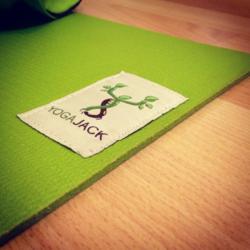 We want to give guys confidence in the studio by providing them with yoga gear and products that are designed just for them.
San Francisco (PRWEB) February 16, 2013
YogaJack, Inc., a purveyor of premium men's yoga mats and lifestyle apparel, operating out of San Francisco, CA and Boston, MA, today announced its introductory line of men's yoga gear.
With more men turning to yoga for fitness, wellness, and overall lifestyle improvement, the company will offer its new line of premium yoga mats that suit a man's style, length needs, and support. The gear will be for sale in select yoga studios and on the company's website, GoYogaJack.com, as well as online outlets such as Amazon.com.
YogaJack's introductory line of men's yoga gear includes three core items:
1. YogaJack ONE 72 inch, extra thick yoga mat
2. YogaJack JOURNEY ONE yoga mat bag
3. YogaJack STAY STRONG yoga strap
YogaJack will also offer the above items as a bundle - the YogaJack KIT.
While today's mainstream yoga mat and apparel companies have begun to carry mats and gear marketed to men, YogaJack believes the industry's response has been inadequate, overpriced, and mis-marketed.
"Whether it's yoga or any other lifestyle activity, guys want simple and stylish products that are still strong and durable," said YogaJack chief marketing officer Mike Foster. "Like everyone else, they want value," which is something YogaJack delivers on in comparison with other men-friendly yoga gear suppliers.
YogaJack's mats will also have a look and feel that men want. "The average guy isn't going to want some floral print, pastel colored, thin, flimsy mat. For men just starting yoga, the practice itself can be intimidating at first," says Foster. "We want to give guys confidence in the studio by providing them with yoga gear and products that are designed just for them."
With men comprising nearly a third of the multi-billion dollar yoga industry, YogaJack has reason to be confident. The company has spent the past two quarters in stealth mode, refining their product and developing a super-efficient supply chain and eco-friendly manufacturing process.
"This is a new era, and YogaJack is leveraging all of the latest business process innovations in order to deliver premium products while passing on savings to our community of customers," said YogaJack president Jahon Jamali. "We set out to produce the best yoga mat, period. Our customers should not settle for less, but at the same time, they don't need to pay over $100 to get the best yoga mat."
YogaJack has set their official launch date for late February 2013, and will begin taking pre-orders on February 14, 2013. Select studios and yoga instructors in the San Francisco Bay Area and in Greater Boston have already begun trying out the new line's mats and gear.