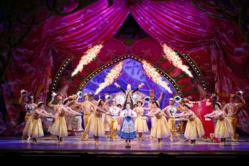 Durham, N.C. (PRWEB) February 18, 2013
Disney's Beauty and the Beast, the award-winning worldwide smash hit Broadway musical, returns after its 2010 sellout engagement to the Triangle as part of the DPAC's Broadway Encore Specials. Produced by NETworks Presentations, this elaborate theatrical production will come to life on stage at DPAC from October 8-13. For information on the production, visit http://www.BeautyAndTheBeastOnTour.com.
While single tickets will go on sale to the public on May 17, DPAC is providing two channels for reserving seats early. Beginning February 12, groups of 10 or more can place their orders with groups (at) dpacnc (dot) com or at DPACnc.com/onlinegroups.
Disney's Beauty and the Beast features the animated film's Academy Award®-winning score with music by Alan Menken and lyrics by the late Howard Ashman, with additional songs with music by Alan Menken and lyrics by Tim Rice. The book is written by Linda Woolverton.
The original creators of the Broadway production are together again for this new touring production! The play is directed by Rob Roth and choreographed by Matt West, with Costume Design by Ann Hould-Ward (Tony Award® winner for her work on Disney's Beauty and the Beast), Lighting Design by Natasha Katz, Scenic Design by Stanley A. Meyer, Sound Design by John Petrafesa Jr. and Music Supervision by Michael Kosarin.
Director Rob Roth: "It has been wonderful to bring the entire original design team back together to work on this new production of Beauty and the Beast. As a director, it is rare to have the opportunity to revisit your work fifteen years later. Hopefully I've grown and developed as an artist, along with my collaborators, and we can bring 15 years of experience to this new production. We have remained very close as a team over the years of producing the show around the world, and it has been so much fun getting together to re-explore and re-invent the show for this new NETworks tour. The theme of 'Beauty' is about seeing past the exterior into the heart of someone, and this is reflected in the design for the show, which is about transparency and layers, seeing past one thing and into another."
Disney's Beauty and the Beast is the classic story of Belle, a young woman in a provincial town, and the Beast, who is really a young prince trapped in a spell placed by an enchantress. If the Beast can learn to love and be loved, the curse will end and he will be transformed to his former self. But time is running out. If the Beast does not learn his lesson soon, he and his household will be doomed for all eternity.
Disney's Beauty and the Beast has become an international sensation that has played to over 35 million people worldwide in 21 countries.
Performances run from October 8-13. Group sales are underway for groups of 10 or more. Groups may call 919-281-0587. Tickets will go on sale to the public on May 17 at 10 a.m. For additional information, visit http://www.BeautyAndTheBeastOnTour.com.
# # #
NETworks Presentations, LLC (Producer). Since 1995, NETworks has produced and managed over 45 touring productions in the U.S., U.K. and internationally. Current productions include Disney's Beauty and the Beast, Disney and Cameron Mackintosh's Mary Poppins, Young Frankenstein, Rodgers and Hammerstein's South Pacific, Blue Man Group National Tour, La Cage Aux Folles, Shrek The Musical, Billy Elliot The Musical and The New 25th Anniversary Production of Les Misérables. Future productions include Elf The Musical, Flashdance the Musical and National Theatre of Great Britain's production of War Horse touring the U.S.
About DPAC
Since its opening in 2008, DPAC has become the center for live entertainment in the Triangle. Recognized for its contemporary design, DPAC features 2,700 seats, intimate sightlines and state-of-the art sound and video. Listed four times in the top 50 in Pollstar magazine's worldwide theater attendance rankings, DPAC is currently the #5 ranked theater in the U.S.
What's up next at DPAC? An intimate evening with superstar Olivia Newton-John (Feb 19), followed by the inaugural Bull City Food and Beer Experience (Feb 24).
For more information please go to http://www.DPACnc.com.