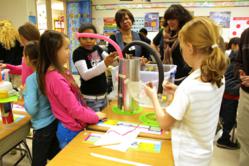 "Building, imagining, discovering – these are all things kids do naturally when they play," said Erica Bertoli, CERDEC Educational Outreach team lead. "No one ever puts the word engineering next to it, but that's what they're doing.
Aberdeen Proving Ground, MD (PRWEB) February 20, 2013
"Can someone tell me why Iron Man is the best superhero, what his true super power is? – Iron Man is the best superhero because Tony Stark is an engineer! Tony Stark made himself a super hero."
This academic year, students across Harford and Cecil counties have become 'STEM Superstars', learning how they too can leverage science, technology, engineering and math, or STEM, principles everyday to accomplish tasks, solve problems and even change the world.
In its inaugural year the STEM Superstar program, the brainchild of the U.S. Army Research, Development and Engineering Command's communications-electronics center, or CERDEC, Educational Outreach Team, engages students from kindergarten to fifth grade in stimulating activities challenging students to think creatively and solve problems like an engineer.
"Building, imagining, discovering – these are all things kids do naturally when they play," said Erica Bertoli, CERDEC Educational Outreach team lead. "No one ever puts the word engineering next to it, but that's what they're doing. We hope that STEM Superstar shows students that engineering is truly a creative science."
STEM Superstar began as a pilot program in November 2011 at Hickory Elementary, Bel Air, Md. and evolved into a five-year, county-wide initiative to bring STEM to elementary students in the area surrounding Aberdeen Proving Ground, or APG. During the 2012-2013 school year, the program will serve 12 schools and approximately 6,000 students.
"Piloting a STEM program with local elementary schools allows CERDEC to demonstrate to students that engineering is an enjoyable, attainable and rewarding career path," said Jill Smith, CERDEC director. "Encouraging students to pursue science and math early in their education can help ensure our country has a competitive and successful S&T workforce in the future.
The program is broken into hour-long sessions spread across four days at a specific school. During that hour, CERDEC Outreach team members lead a short lesson designed to show students the basics of STEM and engineering, followed by a STEM mission that will leave the students STEM Superstars by the end.
While centered on STEM, the missions are rooted in creativity and imagination. They work together to create a design and bring that design to life, building a prototype from a box of unusual items like reflective bubble wrap, small wiffle balls, PVC pipes and plastic beakers.
Younger students have missions surrounding aliens and space travel while older students have missions asking them to solve real-world problems. Fourth graders need to design something that gives an ordinary person a 'super power', much like Iron Man. Fifth graders are challenged to create something that would make the world a better place or make life easier.
The missions allow students to engage in problem-solving, group work and the application of several subjects, which has multiple benefits according to Meadowvale Elementary, Havre de Grace, Md., Principal Debbie Freels.
"Students walk away from STEM Superstar with an understanding of STEM, but they also see how all the skills they've learned in different subjects can come together to create something new and solve a problem," said Freel. "As an educator, it can be difficult to show young students that we aren't just teaching them addition and subtraction because it's in the math book. It all has a greater purpose and a real life application."
Harford and Cecil county officials were critical in the successful launch of the program, said Bertoli, citing the positive relationship between APG, county officials, and principles and administrative staff at the county schools. Over the next four years, the STEM Superstar program plans to visit every elementary school in the two counties, ensuring every student has taken part in the program at least once.
"The program is a reflection of the dedication of Harford and Cecil counties to provide the best opportunities and further the education of their students," said Bertoli.
Throughout the STEM Superstar curriculum are messages that relate back to the work CERDEC engineers, and the countless engineers from other R&D organizations, do at APG, located right around the corner for most of the students, and where many of their parents work.
"We show them the amazing things engineers at CERDEC do – creating night vision goggles to let Soldiers see in the dark, making Sense Through the Wall that lets Soldiers see what's on the other side of a brick wall," said Bertoli. "To a kid, what CERDEC engineers do can seem like really giving Soldiers super powers and that's a powerful message."