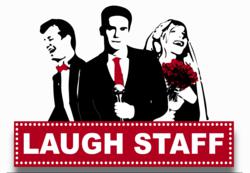 Bohemia, N.Y. (PRWEB) February 20, 2013
On February 20, Laugh Staff commented on a recent article by Fast Company detailing the anxieties of public speaking and three tips on handling that anxiety. Laugh Staff, a speech writing service provider, discusses the angst of public speaking and supports the article's advice.
According to Fast Company, "It doesn't matter if you're presenting to two people or to 2,000 people: When presentation anxiety strikes, you need some strategies to get you out of your own head and on to the stage with confidence, polish, and professionalism." Fast Company adds that no matter how experienced you are, you will always get the butterflies form time to time before facing an audience.
Fast Company advises speech givers to do one or all of three things to get past the jitters of speech giving: Exercise, Memorize and Dialogue.
According to Fast Company, beginning is the hardest for all speech givers. "In order for you to use your introductory sentences to strategically catapult yourself over your opening jitters, you need to prepare something that brings energy to yourself, to the audience, and to the presentation. Share a short personal story, a brief commentary on a recent, relevant headline, or a potent quotation."
Cameron Amigo, a representative for Laugh Staff, applauded the article. "If you're giving a best man speech in the future, you should definitely listen to this advice," he said.
Amigo added that while public speaking incites so much fear among people, that fear is really unwarranted as long as you know what you're talking about. "Confidence comes from knowing the material. If you memorize someone's speech or a template then it feels like a presentation. However, if you tell stories that you've told thousands of times to friends over beers through the years, then the speech will feel and sound natural. The best way to practice a speech is to call someone one the phone and have a conversation with them using your speech. If they think what you're saying is just a story or part of the conversation, smile and know you're ready to give an amazing speech."
Laugh Staff provides speech-writing services to friends and family of the bride and groom. They assist best men and maid of honors in speech editing, speech writing, and training on speech delivery. Recognizing the importance of the big day, best men and maid of honors work with comedians to ensure their speech is memorable.
###