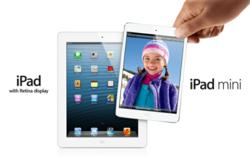 We like to reward our affiliate marketers and web publishers with free prizes at various times during the year.
Sunrise, FL (PRWEB) February 15, 2013
Experience Advertising, Inc, a leading online marketing agency, has launched their latest affiliate marketing sweepstakes for affiliate marketers to enter and potentially win 1 of 3 Apple iPad Minis. The Facebook sweepstakes will run from February 15th until March 31st and has no obligation to enter.
Experience Advertising runs several sweepstakes throughout the calendar year in order to give away prizes to their hard working affiliate marketers. CEO of Experience Advertising Evan Weber states, "We like to reward our affiliate marketers and web publishers with free prizes at various times during the year. It's just another way our agency shows that we give back to the affiliate marketers that generate traffic and sales for the clients we represent. It builds a tremendous amount of loyalty and winners are always beyond ecstatic with their prizes."
Experience Advertising manages affiliate programs for companies of all sizes on the major affiliate networks like Commission Junction (CJ), Linkshare, Google Affiliate Network, and Shareasale. They provide a brand of affiliate program management that goes beyond the norm, by providing complimentary website audits, 24/7 phone support, online marketing tutorials, live webinars, one-on-one training, free web content, and other free services beneficial to their affiliate marketers. Weber goes on to state, "We go far over and above what the typical affiliate manager does, by proactively reaching out to our affiliate marketers bringing knowledge, strategy, and training directly to them without ever a cost. Not to mention our affiliate newsletters are the best in the industry which helps increase participation and stimulate a broad base of affiliate production for our clients' affiliate programs."
In addition, Experience Advertising provides additional digital agency services to their clients such as: social media marketing, Facebook advertising management, search engine optimization, paid search engine management, online PR, content creation, website conversion rate optimization, graphic design, web design, and email marketing. Weber continues, "We are capable of implementing a comprehensive online marketing strategy across several traffic channels to grow website traffic as well as making sure the traffic is being converted into sales at a better rate over time. We stay on the cutting-edge of online marketing strategy and technique so our clients can grow their traffic and revenue exponentially.
If you are looking for a digital agency for affiliate marketing or other online marketing services visit Experience Advertising for more information.