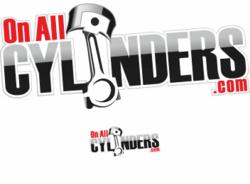 (PRWEB) February 15, 2013
This is the second in a series of garage floor protection articles and videos posted by OnAllCylinders. The first article demonstrated how to apply UCoat It Flooring Coating System to a fresh concrete floor. Jefferson Bryant showed how to apply the UCoat It system to the floor of his brand new shop, how to determine what products to use, how to prep the floor, and tips on applying the UCoat It system to get a durable, long-lasting finish.
Made by Race Deck, the Genuine Hotrod Hardware Harley Davidson® Interlocking Tile Floor System uses durable, 12-inch by 12-inch interlocking floor tiles, so it's easy to create any pattern desired. Made of a high-impact polypropylene copolymer, each tile can support 25,000 psi of rolling stress and 250 psi for standing loads—strong enough to support a vehicle lift. The tiles can protect a concrete floor from impacts and stains and won't fade, discolor, or stain.
The Harley Davidson® Interlocking Tile Floor System comes in a kit with 36 tiles, plus edges and corner trim pieces, to build a four-foot by eight-foot section. The tiles come in a choice of classic Harley black and orange or alloy gray (aka satin aluminum).
LINK TO FLOOR TILE SYSTEM STORY AND VIDEO: http://www.onallcylinders.com/2013/02/13/flooring-hop-up-installing-genuine-hotrod-hardware-race-deck-floor-tile/
LINK TO GENUINE HOTROD HARDWARE HARLEY-DAVIDSON FLOOR TILE SYSTEM: http://www.genuinehotrod.com/itemgroup/harley-davidson-logo-interlocking-floor-systems
LINK TO UCOAT IT FLOOR COATING STORY AND VIDEO: http://www.onallcylinders.com/2012/12/14/roll-on-creating-a-better-garage-floor-with-ucoat-it-floor-coating-systems/